Maclaren, Boyd, Boyce: Why a goalscorer is key in the Scottish Premiership

By Tom English
BBC Scotland
Last updated on .From the section Scottish44
Statistics are pliable. We can bend them any way we want to tell any kind of story we wish to tell.
The most ruthless side in the Premiership in terms of number of attempts on goal that actually turned into goals? Well, take a guess...
Not Celtic, the champions, that's for sure. They were a lowly 11th, with only Dundee behind them in this particular table. Not Rangers. They're second. Not Hibs - third. Or St Johnstone, Aberdeen or Kilmarnock - fourth, fifth and sixth.
The team with the greatest capacity to turn shots into goals in last season's league campaign was, believe it or not, Hamilton, with a goal every 6.06 attempts.
Fascinating, right? Er, maybe not. Honestly, there's reams of this stuff out there, stuff that would lead you to believe that day was night and night was day. You go through it and your eyes start to gloss over and then you get to the detail about the goalscorers and it gets a little interesting...
Maclaren most productive striker?
Neil Lennon must have dreamed about keeping Jamie Maclaren at Easter Road after his 15-game - and eight-goal - loan spell in the second half of last season. The Australian averaged a goal every 111.5mins that he was on the field in the league.
As such, he was top of the list of players in the minutes-per-goal chart...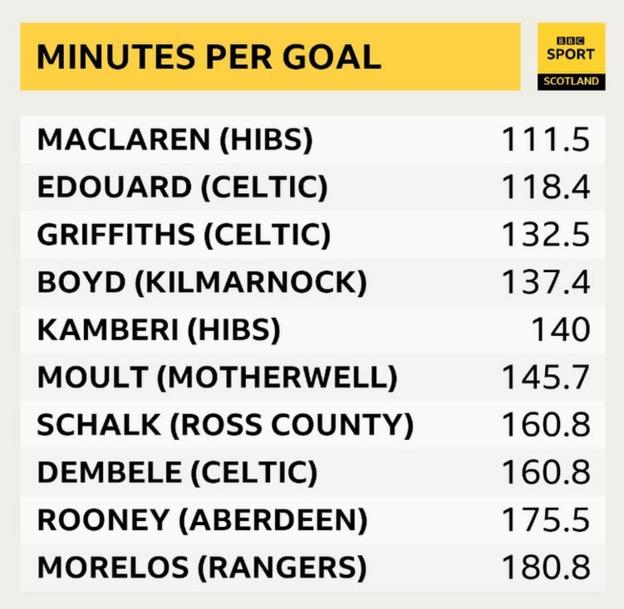 And Boyd the most influential?
Kris Boyd is one of the more interesting characters in that list. He scored more goals than anybody, had more attempts than anybody and had more on target than anybody.
As he nears his 35th birthday, Boyd has already scored four goals in three League Cup games this season, following on from the 23 he got in all competitions in the last campaign.
For the former Scotland striker to finish top scorer in the Premiership - with 18 goals - was a huge achievement for a player who had been thinking about retiring before his new manager, Steve Clarke, arrived and gave him a new beginning.
Let's consider what Boyd's goals helped accomplish. No grim battle with the drop for a start. He scored the goal that gave Killie a draw against Hibs (twice) and Ross County once. He scored the winner against Rangers (twice) and Hamilton once. It might be a crude calculation, but you could say that his goals amounted to 12 points for his team.
The goals played a big part in Killie achieving fifth place in the league. Fifth gets you £1.6m in prize money. Had the Rugby Park side not made the top six, the best they could have done was £1.36m for finishing seventh. Almost £250,00 is considerable in this context. Add in the fact that the new-found feel-good factor saw an 8.6% rise in their league attendances and Boyd's worth was obvious.
Of course it was Clarke's astute management that drove everything at Killie, but Boyd was a rich blessing. Not many clubs have one like him - homegrown and seemingly ever-lasting. Most managers have to scour the land to give themselves a chance of signing somebody with Boyd's reliability and affordability.
But what happens if they leave?
The goalscorer in the Premiership is a breed that's hard to find and, sometimes, even harder to keep. They're a blessing when you have them and have proven a curse when you have to replace them.
That, again, is Boyd's appeal. At nearly 35 he's not beating away offers, not that he wants to go anywhere else. He's content. He's got another season left in him, maybe two, and he's all Killie's.
Others have not been so fortunate. Inverness Caledonian Thistle's demise was instructive. Third in the top flight in 2012-13, then fifth the following season and then third again the season after, they had Billy Mckay banging in the goals at an average of 17 per season.
When Mckay left for Wigan Athletic, Inverness slipped to seventh. The season after, they were relegated. Other important players leaving would have contributed, of course, but this is one of a number of examples of the flip side of finding a goalscorer. When they exit, they leave behind a giant, sometimes fatal, chasm.
In 2016-17, Ross County's Liam Boyce was the Premiership's top scorer with 23 goals. County finished seventh, but couldn't keep him and couldn't find somebody to do what he did. Like United before them, they got relegated.
The goalscorer is a precious and rare enough commodity, particularly at those clubs who will most likely be scrapping it out near the bottom. Give Alan Stubbs at St Mirren and Kenny Miller at Livingston a guy who will bang in a dozen or more goals in the league and both managers might fancy their chances of getting a decent night's sleep over the next nine months.
One gem is what they crave. They can worry about keeping him later on.