Michael Johnson: Former Derby defender relishing new Guyana role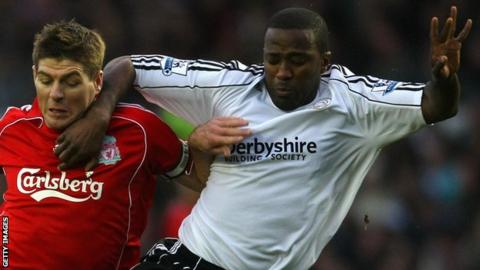 Guyana's sporting heritage is not extensive.
Cricketing greats Clive Lloyd, Carl Hooper and Shivnarine Chanderpaul were born there. Boxer Michael Anthony is its single Olympic medallist, and the bronze from the Moscow Games in 1980 was aided considerably by a political boycott that meant there was no participation from the United States.
In football, there has been no appearance at the Concacaf Gold Cup, let alone the World Cup.
Guyana's current Fifa ranking of 182 puts them between Cuba and Bhutan and two places ahead of Malta, who have not won a competitive game since 2013.
Nevertheless, former Notts County, Birmingham and Derby defender Michael Johnson is not daunted by the challenge he has taken on as the national side's new head coach.
Doing things the right way
A country of 800,000, geographically squeezed between Brazil, Venezuela and Suriname in South America but belonging to the North and Central American region in footballing terms, Guyana's recent footballing history has been chaotic.
The national team did not play a game between November 2012 and September 2014.
Prior to that a World Cup qualifier with Mexico was moved to the United States at short notice to maximise revenue and players had gone on strike at the $12-a-day allowance they were given to compete in the Caribbean Cup.
During the hiatus that followed, then-Guyana Football Federation president Christopher Matthias said he no longer wished the Golden Jaguars to select players from overseas, ruling out English-born brothers Leon and Carl Cort, who won eight and six international caps respectively.
That self-imposed ban has been lifted and Guyana are now playing again.
But given a chronic lack of investment and woeful facilities - Guyana play matches at the national cricket stadium - Johnson needed to do some due diligence before accepting the role.
"I have always been an honest footballer, who gives his all and is 100% transparent," said the 45-year-old, who was appointed boss of the Golden Jaguars in June.
"I have tested the waters and from what I have seen so far, it is a situation I can work with.
"There has been a lot of corruption around the region. But, as far as Guyana is concerned, there is a new president now.
"He has declared the accounts, which has not been done in the past. He wants to do things in the right way."
Climbing the rankings from 182
Wayne Forde was elected Guyana's football president in 2015.
However, generating the income to improve facilities, coaching and youth development is not going to be easy.
Johnson said: "I had an idea what it would be like because I represented Jamaica for 13 years.
"The situation has not moved. But that is what makes the challenge so exciting.
"It is going to take some fortune to be challenging the likes of United States and Mexico but success for me is measured by where you come in at and where you leave.
"Can we be one of the better teams in the Caribbean region? Can we develop youth football? Can the infrastructure of the country be better? Can we climb the Fifa rankings? Can we qualify for the Gold Cup?
"What is the state of the men's and women's senior teams in five years' time? What are the coaches looking to develop in the island?
"Wins are not just achieved on the field. They are also in the background, the stuff that no-one really sees."
Staying at home
Johnson emerged as Guyana's preferred candidate from the 200 applications the football federation received.
He will carry on with his day job as an ambassador at Derby, using technology to track the progress of the players he intends to call on for the 8 September meeting with the 160th-ranked Barbados, Guyana's first qualification match for the new Concacaf Nations League.
The last time Guyana played, in November 2017, they drew on players from English non-league clubs Wealdstone and Walton and Hersham, as well as Durham United, a tier-three team from Canada.
Johnson said: "With technology nowadays, you don't necessarily need to be in a place to find out about players. I do have support from Derby and I have got coaching staff on the ground in Guyana who I will liaise with.
"The body of the players are in England, hence why it works for me to be in England, but I also have players in MLS and Canada. I will be going out for 10 days every month and there will be Fifa dates as well so there will be a lot of flying."
Unconscious bias in England
Given he worked with the Professional Footballers' Association to get his coaching badges and has wanted to go into full-time management for some time, it is tempting to think Johnson is a victim of the lack of BAME representation within the English game.
He accepts there is a problem that must be addressed, but he does not view having to get work in a footballing backwater like Guyana as a consequence of it.
He said: "I was as proud getting this job as I was when I made my debut or played in a cup final for Birmingham.
"That said, there are difficulties in England for managers with ethnic origins. It's not racism, it is unconscious bias.
"People recruit from areas they feel comfortable with. The recruitment process needs to be looked at.
"One of the reasons I was delighted by my appointment was that I was one of 200. It was an open, fair, transparent process.
"Nobody is saying people should get jobs because of their skin colour or where they are from. It should be based on your CV and strength as a person."