Celtic criticise Rangers' decision to cut away ticket allocations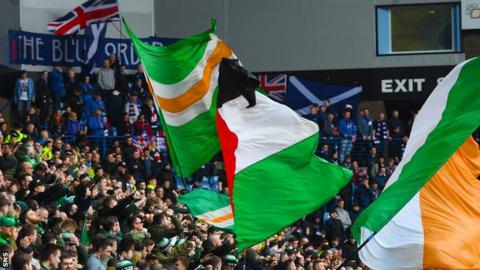 Celtic have called on Rangers and the SPFL to meet to discuss Old Firm derby ticket arrangements.
They confirmed they will issue just 800 away tickets for the Celtic Park clash between the pair on 2 September.
But Celtic said "this is not a development we welcome", and say it is in response to their own allocation being cut by Rangers.
"It is unfortunate that the initial decision came without any form of discussion," said a Celtic statement.
Until this season, both clubs brought around 7,000 fans to each other's respective ground.
The Celtic statement continued: "The previous arrangements worked well for both sets of supporters as well as contributing to the status of the fixture as a sporting occasion.
"Following the unilateral action by Rangers, we cannot allow our own supporters to be doubly penalised, by having access to the away fixture reduced so dramatically, while not being offered the opportunity to maximise our own support at Celtic Park."
Rangers had said in May the decision to cut tickets was due to "unprecedented demand" for season tickets follow the arrival of manager Steven Gerrard.
"The rules of the SPFL call for 'reasonable' provision to be made for visiting supporters, without being specific on numbers. Within that context, we would welcome further discussions involving the two clubs and the SPFL."