Record TV rights deal saw gap from Premier League to EFL widen to £133m in first year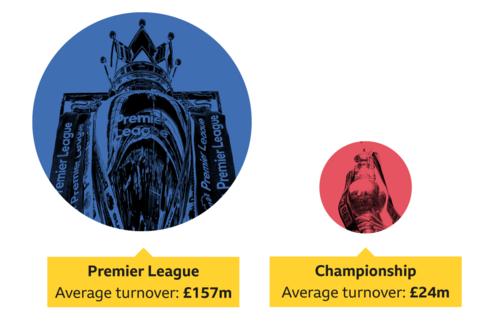 The gap in average turnover between Premier League and English Football League clubs widened to £133m in the year after a record TV rights deal.
The divide grew in each season from 2014-16 and by a third more in 2017.
Championship clubs are now tending towards a "two-year gamble" to attempt promotion and avoid breaching spending rules, a football finance expert says.
"Competitive balance" between the Premier League and Championship was "clearly evident", the EFL said.
All three of the clubs promoted from the Championship at the end of the 2016-17 season - Newcastle, Brighton and Huddersfield - survived in the Premier League last term, while of the teams that came down, Middlesbrough made the play-offs, Hull City finished 18th and Sunderland were relegated.
In 2015, the Premier League sold domestic television rights to its games for a record £5.136bn, 71% above the previous deal.
The full impact of that negotiation was first expected to be seen in 2016-17 accounts, which BBC analysis can now reveal.
BBC England's data unit and BBC Sport analysed most recent accounts - covering the four years until 2017.
Our analysis found:
The median average turnover among Premier League clubs was £133m higher than those in the Championship, according to clubs' most recent accounts
In 2017, 14 out of 23 Championship clubs spent more than 100% of their turnover on staff costs, including their players, coaches, management and administrators
Barnsley did not disclose that detail in their 2017 accounts
Between 2014 and 2017, Championship clubs' median average turnover increased by £4.8m to £23.7m, League One's rose by £1.9m to £6.3m and League Two's dropped by £300,000 to £3.2m
The Premier League's highest-paid director, believed to be executive chairman Richard Scudamore, received £2.5m in "broadcasting bonuses" in the year ending 2016, when the record TV rights deal was agreed - more than the margin by which League One and League Two clubs increased their turnovers from 2014-17
The BBC investigation earlier revealed more than half of Premier League clubs could have made a pre-tax profit without selling any tickets in the first season of the current broadcast deal.
The total value of the rights for 2019-2022 was taken to £4.55bn without Amazon having announced how much it had paid to show 20 matches in each of those three seasons.
Championship clubs' income from broadcasters now "pales into insignificance" compared to that in the Premier League, according to football finance expert Kieran Maguire, from the University of Liverpool.
Trevor Birch, the former chief executive of Chelsea, Everton, Leeds, Sheffield and Derby County, and one-time administrator for Portsmouth, said nobody could have foreseen the "exponential growth" of the Premier League at its outset.
The EFL said it was "widely acknowledged that there is a significant disparity in broadcast income between clubs in the top two divisions in England" but stressed revenues for its clubs "continued to increase through club-generated income, improved central contracts and as a result of EFL-negotiated solidarity payments".
The sale of its own broadcasting rights would "see a 36% increase in revenues from the start of the 2019-20 season", the EFL said, giving clubs "increased long-term certainty".
"The quality of the Championship now was such it attracted larger television audiences and was probably the second-best league in Europe," Birch said, but it "relied on benefactors and investors" to keep pace with the finances of the Premier League.
In 2014, EFL chief executive Shaun Harvey had said the winner of the second-tier play-off final would receive the same from one season in the Premier League as "from playing in the Championship for the next 30 years".
Football Supporters' Federation chair Malcolm Clarke told the BBC: "We believe that more money should trickle, or in fact waterfall down from the Premier League in a redistribution of that broadcast money.
"It's in the Premier League's best interests to keep the football pyramid healthy."
'Gamble'
Clarke continued: "There should be greater redistribution down through the leagues, but at the end of the day the Premier League owners are reluctant to do that. This is something the FA surrendered 25 years ago when the league was created."
Maguire said increased broadcast revenue had "increased the incentive for clubs in the Championship to aim for promotion, as the financial rewards were so great".
Spending limits intended to protect clubs' futures - Profitability and Sustainability rules which allow clubs to make up to a £39m loss over a rolling three-year period - meant clubs were now trying a "two-year gamble" buying players and paying high wages to win promotion, he added.
That approach included the need for a third year of "retrenchment, with the focus on cutting wages and generating income from player sales", Maguire said, to avoid exceeding permitted losses set out in the spending rules.
The potential rewards "might force clubs to be that bit over-ambitious", Birch said, and it "could be quite difficult to 'retrench' if clubs had signed players on three-year contracts for example".
What are the rules?
In the Premier League, Financial Fair Play (FFP) rules in place from 2014-16 limited the increases clubs could make in spending on players between seasons that were funded purely by new broadcast revenue.
They could, however, make bigger increases in player spending every year if they had more of their "own revenue", which could come from new commercial or sponsorship deals, profit from player sales, rising matchday income - such as an increase in ticket sales - or Uefa prize money such as from participating in the Champions League.
Clubs which could not satisfy those criteria were capped on any increases in player spending between seasons.
There was no cap on player costs or wages in the Championship but the rules limited losses to a maximum of £13m per season, or £5m per season if the owner did not inject cash into the club to cover those losses.
FFP has since been replaced with Profitability and Sustainability rules, which changed the assessment period to a rolling three years.
That change meant clubs that remained in the Championship were permitted to lose a total of £39m over those three years.
This loss is not the same as the accounting losses published by clubs, as some costs - such as infrastructure, academy, community and women's football - are excluded.
Based on the BBC's analysis of staff spending and his own observations on player signings, Maguire identified five clubs he believed were taking a "two-year gamble".
"The most noticeable clubs that appear to have taken this approach and 'twisted on 2017' are Aston Villa, Birmingham City, Derby County and Sheffield Wednesday," he said.
"Wolves also took the same gamble in 2017-18 but were rewarded with promotion.
"I think Steve Gibson has realised that Middlesbrough have a separate cliff edge as they only receive parachute payments for two years following their relegation in 2016-17. This meant they realistically had only one year of spending before introducing some austerity measures.
"His comments that Boro would 'smash' the Championship in 2017-18, by spending £50m on transfers didn't bear fruit and consequently they've had to cut back this summer [by selling Adama Traore, Ben Gibson and Patrick Bamford for a total of about £43m]."
Both Birmingham City and Sheffield Wednesday have been under transfer embargoes this summer after falling foul of the Profitability and Sustainability regulations.
"Time would tell" if the latest spending rules were working to "stop clubs over-extending themselves", Birch said, but he highlighted there had been no insolvency situations among clubs in recent years.
Asked about the BBC's findings that 14 Championship clubs spent more than their turnover on staff costs in 2017, Birch, who brokered Roman Abramovich's £180m takeover of Chelsea in 2003, said "clubs are obviously overspending if they have owners with deep pockets who are prepared to finance it".
Birch, now managing director at Duff & Phelps added: "It is obviously not sustainable if those owners walk off, you'd have to be concerned as a supporter if for one reason your owner did walk away."
The BBC approached Aston Villa, Birmingham, Derby County, Sheffield Wednesday, Wolves and Middlesbrough for comment.
Middlesbrough says it "operates within the Profitability and Sustainability rules and will continue to do so".
The EFL said its rules allowed "clubs to operate in a fair and sensible manner, whilst also providing the freedom and flexibility for club owners to compete in what is an increasingly-competitive marketplace".
Reporting team: Alex Homer, Andrew Aloia, Steve Marshall, Daniel Wainwright, Pete Sherlock and Paul Bradshaw