Mesut Ozil: German FA boss admits regret over row with midfielder
Last updated on .From the section European Football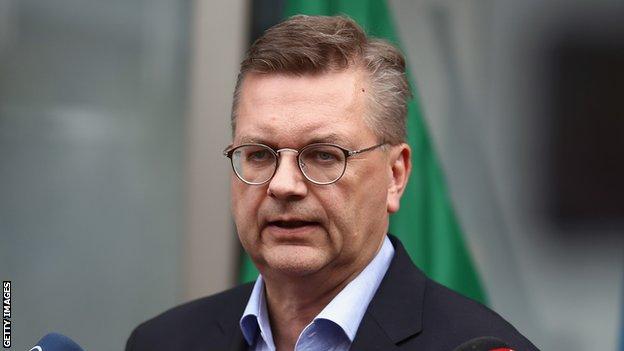 The head of Germany's football association says he regrets that the body's criticism of Mesut Ozil over a photograph with Turkish president Recep Tayyip Erdogan was "misused for racist slogans".
DFB president Reinhard Grindel said in a statement: "We live our values, and that's why we as the DFB have critically questioned the photo."
He added: "Mesut Ozil's decision to step down from the Germany national team has triggered a debate about racism in general and about football's capabilities for integration in particular. As DFB president, I do not wish to shy away from this debate.
"Looking back, as president I should been unequivocally clear about something that is a given for me as a person and for us all as an association: any form of racial hostility will not be accepted or tolerated under any circumstances."
Ozil, a third-generation Turkish-German, says he received hate mail and threats after Germany's exit at the group stage of this summer's World Cup in Russia and quit the national team citing "racism and disrespect" within German football.
"I am German when we win, but I am an immigrant when we lose," added Ozil, a member of his country's 2014 World Cup-winning side.
In a statement on Monday, the DFB said it "emphatically rejected" Ozil's claims.
Grindel added: "The values of the DFB are also my values - diversity, solidarity, anti-discrimination and integration.
"During my time at the DFB, I have been able to experience just how much football can do for integration, and I am very proud of the efforts the DFB, the regional associations and each and every club puts in."