Mesut Ozil: Arsenal boss Unai Emery says club can be 'home' for midfielder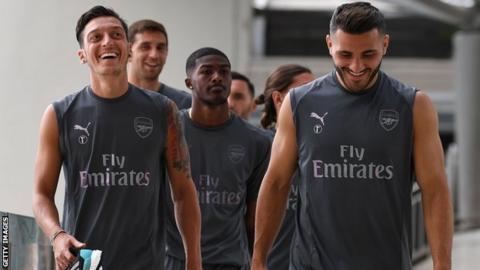 Arsenal want to be like "home" for midfielder Mesut Ozil after he quit international football citing "racism and disrespect," says boss Unai Emery.
The 29-year-old was criticised after being photographed with Turkish President Recep Tayyip Erdogan in May.
Ozil, who has Turkish roots, released a lengthy statement on Sunday saying his treatment made him "no longer want to wear the German national team shirt".
"We are going to help him feel good and show his quality with us," said Emery.
Ozil said he received threats and hate mail after the photographs with Erdogan were published.
The German Football Association said it "emphatically rejected" Ozil's accusations of racism.
"Mesut has the respect of every player here," said Emery, who was appointed as Arsene Wenger's successor in May.
"All of us want to help Mesut feel like it is his home here with us - like a family, and it is a family for every player."
Ozil joined the Arsenal squad in Singapore for pre-season training, before they face Atletico Madrid in a friendly on Thursday.
Asked whether Ozil was mentally prepared for the season, Spaniard Emery said: "I am sure he is going to have a big season with us.
"He has experience, he has quality and he has a great mentality."
Arsenal chief executive Ivan Gazidis was reportedly applauded by Arsenal players and staff after defending Ozil in a speech at a club barbecue on Tuesday.