Liverpool: Emre Can says Jurgen Klopp wished him luck when he left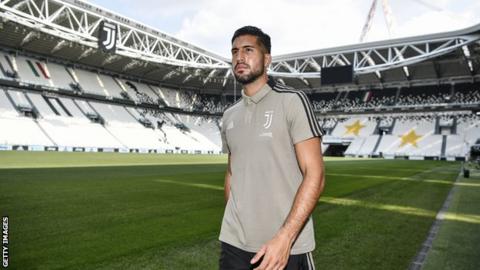 Former Liverpool midfielder Emre Can said manager Jurgen Klopp wished him luck at Juventus despite telling him he was leaving his ambitious project.
Germany international Can, 24, left Anfield after four years when his contract expired this summer.
He was joined at Juventus by Real Madrid's five-time Ballon d'Or winner Cristiano Ronaldo.
"My relationship with Klopp was always good. He wished me all the best when I told him I was leaving," Can said.
Can told BBC Sport the prospect of playing alongside Ronaldo was "amazing" and Juventus' "big" project is to win the Champions League.
Can scored 14 goals in 167 appearances for Liverpool after he was signed for £9.75m by Brendan Rodgers in 2014.
Klopp picked Can in 28 Premier League games last season, even though there was no suggestion he would sign a contract extension amid persistent rumours of a move to the Serie A champions.
Can said: "Not a lot of managers would let you play so many times when you are in the final year of your contract.
"But I always did my best. I always wanted to help the team. That is what he saw. That is why he kept faith with me."
This summer Liverpool have signed Alisson from Roma for £66.8m, a record fee for a goalkeeper.
Guinea midfielder Naby Keita has arrived from RB Leipzig for about £50m, Brazil midfielder Fabinho has joined from Monaco in a deal that could be worth more than £40m and Switzerland winger Xherdan Shaqiri has come in from Stoke for £13m.
Klopp has said Liverpool's "next step" is to win trophies.
Italian teams 'not happy' to face Ronaldo
Juventus have won seven league titles and four domestic doubles in a row under coach Massimiliano Allegri.
Less than three weeks after he joined, Can's transfer was be overshadowed by the club record £99.2m arrival of Portugal captain Cristiano Ronaldo.
For the final seven minutes of last season's Champions League final, when Can came on for James Milner, the pair were on opposite sides.
Can is delighted Ronaldo is now a team-mate.
He said: "It is amazing to play with such a big player, maybe the best player in the world.
"You only have to see what he did in the last few years and how many goals he scored.
"It is nice we are going to be on the same team, although the other teams in Italy are not so happy about that."
'Juventus wanted me'
Juventus' average margin of success during the last seven championship-winning seasons is nine points, and Can says the target is a first Champions League success since 1996, when Didier Deschamps, Antonio Conte and Gianluca Vialli all played.
It is the "project" he was sold during months of persistent Juventus negotiating as the final months of his Liverpool contract ran down.
Can said: "I had a options to join many teams around England and Italy but Juventus so many times. They wanted me."
Those who follow Juventus closely are adamant Ronaldo's arrival will have to be balanced by departures so the club can comply with Financial Fair Play.
Gonzalo Higuain and Daniele Rugani have been heavily linked with Chelsea, while Miralem Pjanic and Alex Sandro continue to be mentioned in conjunction with Premier League moves.
The European transfer window closes on 31 August.
"I am really happy to be in Turin. The project is big," Can said.
"Our main focus has to be Serie A but of course we want to win the Champions League. We don't just go in there and think 'we will see what happens'.
"Juventus has always tried to win the Champions League."
Liverpool and Juventus are among several top European sides in the United States for the International Champions Cup.
Juventus play Bayern Munich at 00:00 BST on Thursday and Liverpool face Man City at 01:00.
Other games on Thursday include Arsenal v Atletico Madrid (12:35), Roma v Tottenham (03:05) and Manchester United v AC Milan (04:00).