FA Cup: Walthamstow player-manager Ryan Maxwell eager to learn from past mistakes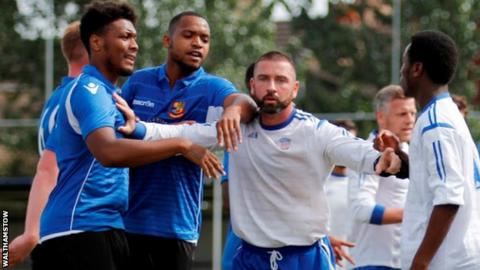 2018-19 FA Cup
Dates: 10 August 2018 to 18 May 2019
Coverage: BBC TV, BBC Sport website and BBC Radio 5 live
Ryan Maxwell is brutally honest when asked why, at the age of 35, he has made 32 moves since playing alongside John Terry in Chelsea's youth team.
"I've wasted my playing career. It's nobody else's fault other than my own," the Northern Irishman tells BBC Sport.
Since being released by Chelsea for disciplinary issues, Maxwell has spent most of his career trawling the non-league circuit as a journeyman midfielder, appearing for 27 different teams in four countries.
His career includes three spells at two different clubs - Grays Athletic and Heybridge Swifts - while he was sacked at the age of 31 by Sudbury after confronting supporters.
"I think I am a bit misunderstood sometimes," added Maxwell.
On Saturday, the former Northern Ireland Under-21 international will take charge of his first FA Cup match as a manager when his Walthamstow team entertain ninth-tier rivals Walsham-le-Willows - one of 184 extra preliminary round matches taking place this Friday, Saturday and Sunday.
Appointed player-manager of the Essex Senior League side in February, Maxwell plans to learn from past mistakes and propel the north-east London club on a money-spinning run after the Football Association increased FA Cup prize money to help lower league clubs.
"I've certainly wasted my career but it has given me knowledge to help anybody who is remotely like me," he added.
Twenty years ago, a 15-year-old Maxwell was lining up in the same team as Terry and Mikael Forssell for Chelsea Under-19s. The Belfast-born player appeared destined for big things.
"I was captain of the youth team in my age group at Chelsea," he said. "Although I was a bit of a starlet at Chelsea, I always thought I knew a little bit better.
"I had a few moments where I lacked discipline. They let me continue as captain but it had been noted. At the end of the season they said my attitude was volatile."
Maxwell ended up at Crystal Palace but by the age of 17 he was sent out on loan to Reading.
"What sort of 17-year-old goes out on loan? Again, it was down to a bit of ill-discipline," he added. "It was mainly the fiery temper in me. There was something beyond winning in my crazy mind. I was so obsessed with winning that I couldn't even play a game of tiddlywinks."
His hopes of forging a professional career over, Maxwell turned his attention elsewhere.
Grays Athletic (three times), Hamilton Academical, Raith Rovers, Dagenham & Redbridge, Redbridge, Basingstoke Town, Margate, Gravesend & Northfleet, Bishop's Stortford, Llanelli and Braintree.
The list goes on.
Boreham Wood, Billericay, Larne in Northern Ireland, Welling United, St Albans City, Waltham Abbey, Whyteleafe, Heybridge Swifts (three times), Ware (two times) and Walthamstow (two times).
There are more clubs. Maxwell was on holiday in Andorra when he met an agent who persuaded him to join Kent part-timers Tonbridge Angels in 2006.
In 2012 he was temporarily paralysed after challenging for a header while playing for Essex club Harlow Town.
Maxwell was a co-owner of a boxing gym when his spell at Sudbury was cut short by controversy in 2014.
"I thought I had calmed down because I was 31," he added. "It was an altercation with a few fans but I was only sticking up for a young lad who was making his debut.
"They weren't the best moments of my life."
Maxwell describes his nomadic career as "unstable".
But he believes his days of drifting are behind him, at long last, having been handed the managerial reigns at Walthamstow, who have changed their name from Waltham Forest to mark the club's 150th anniversary.
Explaining his long list of clubs, Maxwell added: "There were occasions where decent football ability got me moves all the time.
"Other times it was for financial reasons or because I wasn't driving and I was relying on lifts.
"There were times when budgets would be cut. When you are on decent money, you are perhaps the first to be released.
"But I don't need to be moving now. I run a decent security business, I'm financially secure, and I am very happy to be manager of Walthamstow."
The club tackling street gangs
A club formed to help break down barriers in the community and encourage youngsters away from crime is hoping for its best FA Cup run.
East London team Tower Hamlets were founded in 2000 by Mohammed Nurul Hoque and Akhtar Ahmed to stop teenagers falling into a life of gangs.
"Our grassroots work has shown that in many cases football acts as a spur and diversionary activity encouraging youngsters to move away from violent and criminal activities," said Hoque, chairman of the Essex Senior League side.
"Tower Hamlets is a lovely place but it has its own share of problems.
"Those who have come out of prison and signed to play for us, the club has helped and encouraged them to get their life back and make a positive impact within the community."
The furthest Tower Hamlets have progressed in the FA Cup is the first qualifying round, which they achieved under their former name of Bethnal Green United in 2010-11.
If they equal that run this season, they will earn more than £5,000 in prize money - more than half the club's annual budget.
"Our players are not paid - they play for the love of it - while our manager takes the team kit home with him to wash," added Hoque.
Former Tower Hamlets players include winger Randell Williams, who played six League One games for Wycombe Wanderers last season while on loan from Watford.
Having gone from the Canary Wharf Summer League to the ninth tier of English football in the space of 18 years, Tower Hamlets start their FA Cup campaign at home to league rivals Stanway Rovers.
Hoque added: "Tower Hamlets is not just another football club, we are a family. It is our ambition and desire to represent Tower Hamlets in the National League in the future."