Truro City to share Torquay United's Plainmoor ground - a round trip of 200 miles
Last updated on .From the section Torquay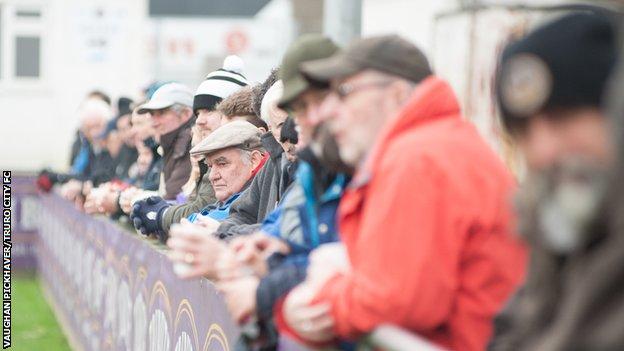 Truro City supporters will face a 200-mile round trip to go to home games.
The club will share Plainmoor with National League South rivals Torquay United, just months after saying they would stay at their Treyew Road home.
Truro sold their ground to developers in July 2014, but have had three extensions to their tenure.
The firm that owns their ground wants to start work to turn it into a Lidl supermarket at the end of this month, leaving the club homeless.
The National League have approved the plan, which means Truro supporters face a journey between the Cornish capital and the Devon seaside resort that takes around two hours.
A ground share at Plainmoor has been mooted in the past as Truro wait for the new Stadium for Cornwall to be built.
Other long-distance 'home' trips
Brighton to Gillingham's Priestfield Stadium - 148-mile round trip - 1997-99
London Welsh to Oxford United's Kassam Stadium - 106-mile round trip - 2012-15
Coventry City - Northampton's Sixfields Stadium - 66-mile round trip - 2013-14
'We did not expect this'
"Whilst we were aware that there was a possibility of being asked to vacate Treyew Road during the 2018-19 season, we did not expect this to happen with such short notice," said Truro chairman Peter Masters in a statement.
"Vacating Treyew Road now will secure the Truro City Football Club a £2m contribution to the Stadium for Cornwall and enable the stadium to progress in line with the build programme, securing the future of the club.
"We fully understand that a temporary move may be unpopular for some supporters. However, we would ask you to accept that this is a case of short-term pain for a long-term gain."
Fans who have bought season tickets will be offered a refund, while the club is also offering subsidised coach travel for supporters.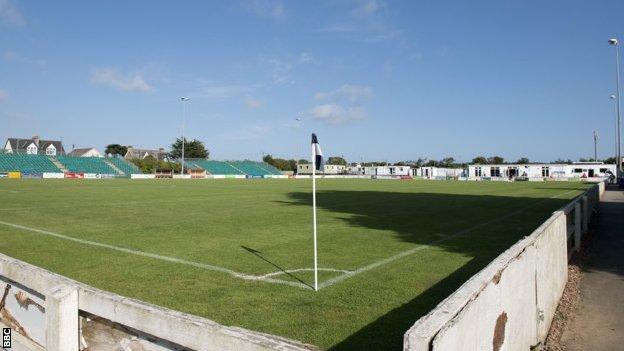 "We have been discussing the possibility of Truro City joining us at Plainmoor for one season," said Torquay United chairman Clarke Osborne in a statement.
"We would be delighted to welcome the team and their supporters whilst their new stadium is under construction.
"It will be a good experience for the operation of a multi-event arena that we hope will be the home of Torquay United in the not too distant future."
'We've been given no prior notice'
The venue change has come only 12 days before Billericay Town were scheduled to visit Truro for the opening day of the season, with fans of the Essex club having already booked travel and accommodation in Cornwall.
"Disappointed that we have not been given any prior notice to this, despite attempts to contact Truro City," Billericay said.
"We will be seeking to assist supporters in any way we can to recover any losses."
Speaking to BBC Radio Cornwall, Masters apologised for the inconvenience but said it is out of his hands.
"I can only apologise to Billericay, Dartford and any other fan who's booked to come to Truro, but the reality is we had our backs against a wall and we had to make a decision, and we've made that decision."
Bad news for fans, but good news for Truro's players
Analysis: Ross Ellis, BBC Radio Cornwall sports editor
While Truro fans will be less than pleased to face a 200-mile round trip for home games, the club's players will probably be happier.
City already draw most of their squad from Devon and train in Torquay and Exeter, so it will mean less travel for them and a more attractive sell for manager Lee Hodges.
But the question remains over the longer-term future of the club.
Work on the Stadium for Cornwall still has not begun and unless it starts very soon - which seems unlikely - there is no chance it will be ready to accommodate the White Tigers by the time next season begins.