'Their own defender fouled the keeper' - Craig Levein angered by disallowed Hearts goal
Last updated on .From the section Hearts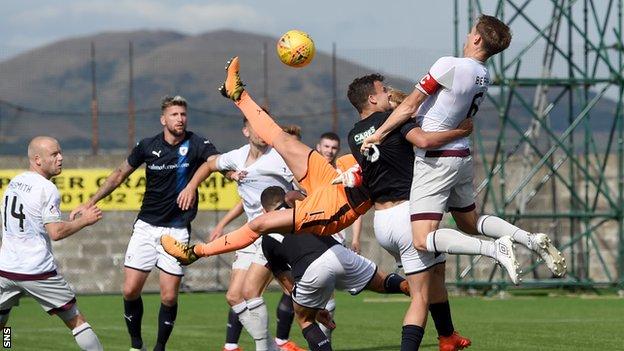 Hearts boss Craig Levein has criticised Don Robertson after the referee disallowed a late goal in his side's 1-1 draw with Raith Rovers.
Hearts captain Christophe Berra headed home what would likely have been the winning goal in the 90th minute.
However, Robertson ruled it out having judged Robbie Thomson to have been fouled, although the Rovers goalkeeper was impeded by a team-mate.
"I don't know what Don saw for the disallowed goal," Levein said.
"Their own defender fouled the keeper and we got penalised.
"But I was angry with our performance for parts of the first half and the start of the second."
Hearts may yet suffer an SPFL points deduction in League Cup Group C, with a hearing taking place on Monday regarding the club's use of an ineligible player in their midweek win over Cove Rangers.
Kevin Nisbet put the third-tier Fifers in front, and it took the introduction of effervescent young substitutes and a stunning long-range drive from Michael Smith to draw the Premiership team level with 12 minutes remaining.
Hearts won the ensuing penalty shootout 4-2 to earn a bonus point, taking their haul to five from two group matches.
"It irritates me I had to bring three young kids on (Aidan Keena, Callumn Morrison and Anthony McDonald) to improve our performance, which should never happen and that's what disappoints me," Levein added.
"It's my job to tell them it's not good enough. OK the pitch was dry but that's not the whole excuse.
"A bonus point is better than nothing but I felt before the match if we won it (qualification for the last 16) would still be in our hands, depending on what happens on Monday."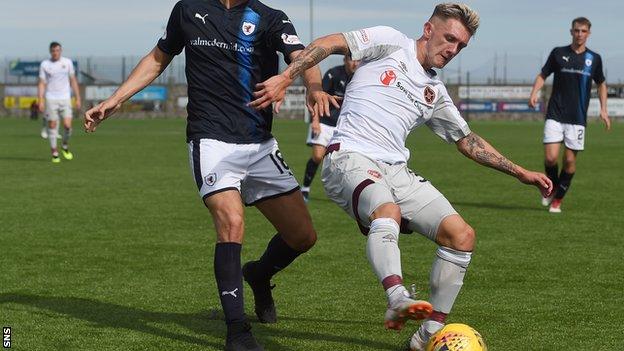 Goalscorer Smith believes his team "weren't competitive enough" and played too much "tippy-tappy" football.
"From the first whistle we should be on top of them," he said. "We are meant to be the better team, we should be taking the game to them. It wasn't good enough.
"We weren't sharp enough, we weren't competitive enough and it's down to us to crack that.
"It's nothing to do with fitness. The way Raith set up we played in front of them, rather than playing in behind them and getting them turned a little bit.
"A little bit of unpleasant football at times instead of the tippy-tappy stuff. It's up to the older boys to sort that out and drum it into the younger boys and do that.
"We have to play the two sides of the game, the ugly side and the nice side. We should have maybe gone to the uglier side today."