Manchester City v Borussia Dortmund: Jadon Sancho scouting report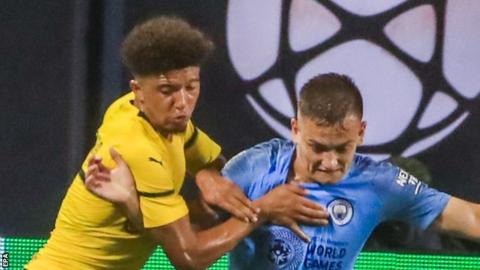 England Under-17 World Cup winner Jadon Sancho said he had a "point to prove" in Borussia Dortmund's pre-season game against his former club Manchester City.
Sancho impressed with his quick feet and ability to take men on as the Bundesliga side beat the Premier League champions 1-0.
He knows there is much more to do before he fulfils his potential, however.
Sancho is missing England's current Under-19 European Championship campaign to feature in Dortmund's pre-season trip to the United States.
The 18-year-old was supposed to play in the International Champions Cup last summer but was left out of Pep Guardiola's travelling squad after telling the City boss he would not sign a new contract.
He joined Borussia Dortmund on deadline day last summer for £10m and went on to make 11 appearances for the Bundesliga side.
How did he play - and where?
At Soldier Field, Chicago, Sancho came on as part of an entire Dortmund team change at half-time.
He played on the left-hand side of a three-man attack, in direct competition with former team-mate Luke Bolton, who was asked to play in defence by Pep Guardiola, even though he is normally a forward.
Sancho kept wide and gave Bolton a difficult evening, combining direct running with moments of trickery which the City man found hard to cope with.
The former Watford academy player did hold on to the ball too long on occasion and also ran down blind alleys.
Mixed with that though, Sancho cut through the City defence and created one chance for Mahmoud Dahoud that would have resulted in goal had it not been for an acrobatic save by Joe Hart.
Sancho was generally diligent in his defensive duties as well although, evidently, his strength lies further forward.
What impression has he made?
Sancho is already a fans' favourite in Germany.
In front of almost 35,000 in Chicago, he was the one man who looked likely to create openings for his team on a consistent basis.
Judging by the relaxed manner in which he spoke to current and former team-mates after the game, he is confident enough to take the attention heading his way in his stride.
The vibes coming out of the Dortmund camp are positive, with insiders reporting Sancho is a dedicated professional, who is eager to learn.
What they said
Jadon Sancho: "I had a point to prove and I think I did well. The manager says I need to release the ball a bit quicker. I do show off a bit sometimes, which is not that good. I need to cut that out but I will benefit from the 11 games I played last season. I have got my bearings now, so hopefully I will be better."
Dortmund manager Lucien Favre: "Jadon Sancho is an extremely good player. You can see his talent easily. He still needs some fine tuning but he has exceptional potential."
Dirk Kampe, football journalist at the Dortmund paper Ruhr Nachrichten: "Everything about Sancho has been very positive. The way he plays in one-on-one situations is very impressive. He takes a lot of risks but that means the Dortmund fans really like him. If I was comparing him to someone who played for Dortmund, it would be Ousmane Dembele. He has the same confidence and creates a lot of chances. It is pretty easy to see if he continues in the right way, he will be a fantastic player."