Ian Burchnall: Ostersunds boss on succeeding Graham Potter and more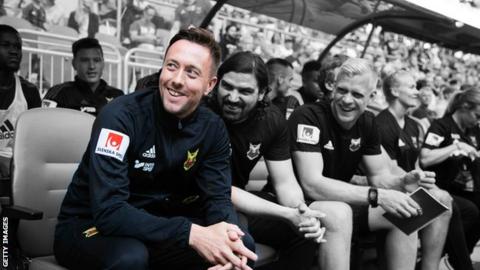 It's a story you might have heard before - an English boss, who couldn't get a job in England, succeeding at Swedish top-flight team Ostersunds.
In six years at the club, Graham Potter guided them from the regional tiers to the top-flight Allsvenskan with three promotions, and won the Swedish Cup.
But he left in June - lured by the chance to lead Swansea City back into the Premier League.
His replacement? Fellow Englishman Ian Burchnall.
But, while Potter had a 13-year career as a professional footballer, Burchnall's playing days were limited to Leeds Metropolitan University.
And, when working at Bradford City's academy, he was told he would struggle to make it in management as he "didn't have a name".
The 35-year-old has made his mark, though, having spent a year as head coach of Norwegian club Viking.
But his experience did not count when he went home at the end of last year.
"Some clubs and agents were very dismissive about the experience I had, and whether or not I was ready to go in," Burchnall told BBC Sport.
Then Ostersunds came calling.
'People thought it could fall apart'
Founded in 1996, Ostersunds caught the attention of the wider football world last season as they beat Arsenal in the Europa League at Emirates Stadium.
Burchnall originally took charge of the team on an interim basis in June, and was given the job on a permanent basis after just one game.
After five wins and a draw, they have climbed to fourth in the table.
"People thought it could fall apart after Graham left," says Burchnall, who was born in Leicester. "But we have made a statement."
'They felt players might not respect me'
Bradford's then academy manager made a statement, too, when he told Burchnall he would struggle because of his lack of profile.
"It was tough to hear," says Burchnall, then head coach of Leeds University's first team.
"He was dismissive because I had not played. He felt my manner, personality and education was more befitting of younger players; that professionals might not take what I said on board or respect it."
But Burchnall was soon coaching professional footballers, when former England striker Brian Deane took him to Norway as his assistant at Sarpsborg 08.
Deane and Burchnall - who first worked together at Leeds University - kept Sarpsborg in the top flight and led them to the cup semi-finals, and Burchnall even completed his Uefa Pro Licence in Norwegian.
'The chaos of my first managerial job'
Viking was Burchnall's next destination - initially as assistant before taking the top job. It was, he says, "chaos behind the scenes".
"It was all about building downwards to try and save money," he says.
"There was no money to bring players in, we had to move players out and reduce the staff."
After a year in charge he was sacked, to protests from fans.
"When I took the job I was 33, with no history as a player," he says. "I knew when I did get the chance it would probably be a difficult one.
"Viking is such a huge club in Norway and Scandinavia, it was difficult to say no. It was a great opportunity and a dream to step out as manager.
"At the same time there were challenging circumstances and it was quite a steep learning curve."
'It's about changing people's perception'
Burchnall says he "doesn't get frustrated" about the lack of opportunities in England, adding there are "other pathways to have success in the game".
But he does believe the 'hire and fire' culture in his homeland can prevent coaches like him getting a job.
"The pressure of football in England tends to means you don't get time," he says. "Clubs tends to box safe.
"When a chairman says they can't take a chance, it is because they don't have time for a coach to develop and learn about the league. They want someone to hit the ground running and if they don't they want to change it fast, the pressure is so great."
Burchnall thinks some English clubs are "outdated" compared with their European counterparts, who "run clubs in a different way with a longer-term vision", but he does acknowledge some have started to "think outside the box".
But does he ever dwell on what he was told at Bradford all those years ago?
"I am pleased to be where I am, what I have learned," he says. "It's justification for all those hours of hard work.
"When I was told that it would be difficult without the background, I understood why they said it. It was to try and give me a reality check.
"But I tried to flip that and thought, 'if that's what people expect, then what can I do about that and change their perception'."
What about the future - does a return to England appeal?
Burchnall says: "I didn't necessarily think I would end up in northern Sweden or the coast of Norway, but if you are willing to embrace the challenge you can end up anywhere and have a great experience in football.
"Managing in front of 30,000 away in Stockholm, I am not missing anything by not being in England. I manage internationals who played at the World Cup and come up against teams who play in the Champions League.
"One day in the future it would be fun to try and come back and do something. But I am happy to continue my development abroad, and I am in no rush to go home."