Wembley Stadium sale plan ridiculous says Gary Neville
Last updated on .From the section Football380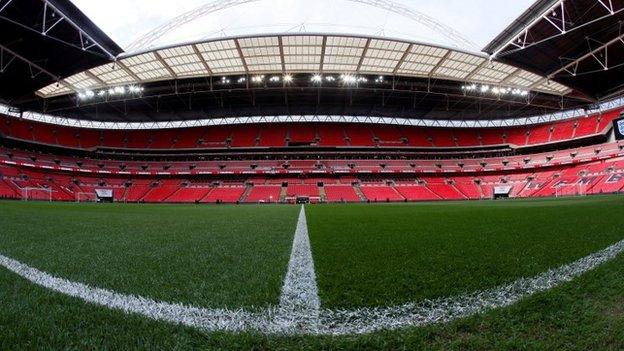 Plans to sell Wembley Stadium for £600m have been called "ridiculous" by former England player Gary Neville.
The Football Association says the sale could transform community facilities.
But Neville told MPs there were other ways revenue could be generated, such as a levy on agents' fees or reducing Premier League prize money.
"The FA feels to fund the grassroots programme, they have to sell a national asset - it's quite simply ridiculous," said the ex-Manchester United defender.
"This is a nonsense."
The FA says only one in three pitches at grassroots level are of adequate quality and that selling Wembley would help fund improvements.
It has received an offer of £600m for the national stadium from Fulham owner Shahid Khan. Under the plan, the governing body would retain rights for the Club Wembley hospitality venture which it values at £250m-£300m.
Neville, giving evidence to a Digital, Culture, Media and Sport (DCMS) parliamentary hearing on Wednesday, said he had sympathy for the FA which is looking to increase investment by £70m a year to £100m annually on artificial pitches, grass pitches, coaching and other initiatives.
"They are talking about an extra £70m a year for 20 years - that's a pittance in football, it's a pittance in government, it's the price of a full-back," said the 43-year-old.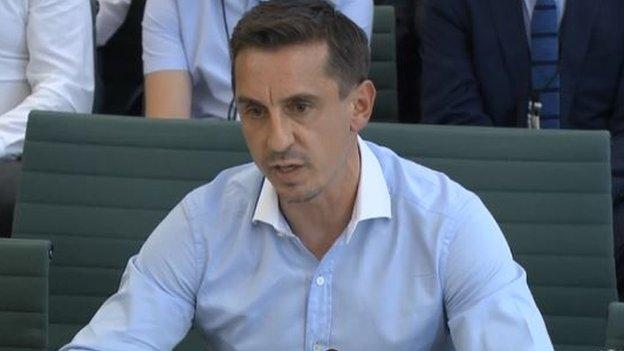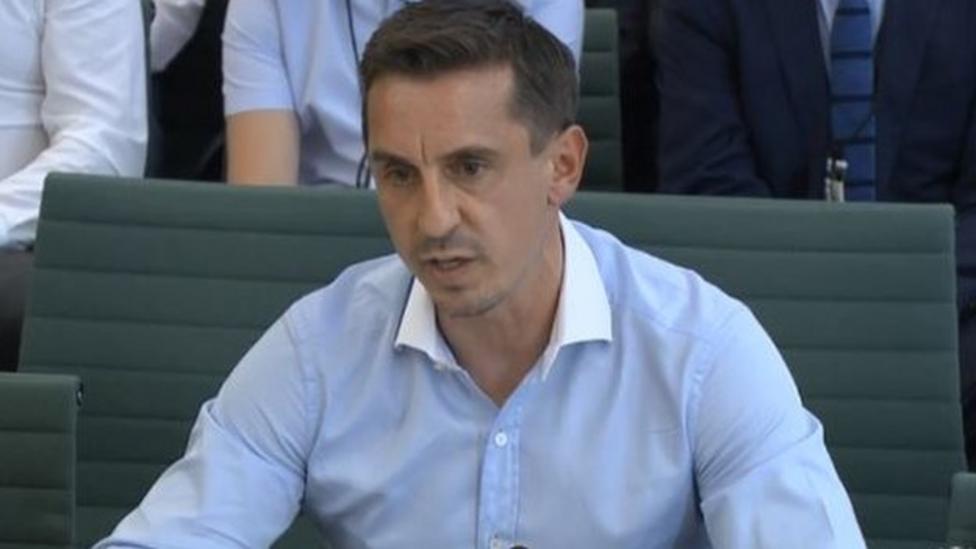 He called the proposed sale a "short-term plan we'll regret forever" and urged the government and football authorities to join together to explore alternative funding methods.
More than £200m was spent last season by Premier League clubs on agents, and he suggested taking a 25% cut of their fees.
"Don't sell Wembley, whatever you do, don't sell Wembley when you can place a levy on agents' fees," said Neville.
Top-flight clubs earned between £94m and £150m last season in prize money and TV income and Neville put forward the idea of each side receiving £3.5m less each, which would raise £70m.
Sitting alongside Neville during the first half of the hearing was co-chair of the Tottenham Hotspur Supporters' Trust Katrina Law; one of two fans' representatives on the FA Council.
Law said polling conducted by the Football Supporters' Federation revealed fans were divided on the sale - with a third strongly opposed, a third in favour and a third wanting to know more details about the grassroots investment.
Wembley Stadium in stats

Stadium reopened 11 years ago after a rebuild costing £757m

American billionaire Khan offered about £600m for the venue in April

FA is thought to owe around £113m to public bodies including Sport England for help with construction costs

Khan wants to move his American Football team, the Jacksonville Jaguars, to Wembley
The committee also heard from Sport England chairman Nick Bitel, Sports Minister Tracey Crouch and FA chief executive Martin Glenn.
Glenn pointed out that only a handful of FAs around the world - and no World Cup-winning nations - own their stadiums and the windfall could transform grassroots football.
"There is an argument that it could make the FA simpler and focus more effectively on its core mission of improving the quality of football, coaching and the national teams," he said.
"If you can spend the money properly, and get all the protections, it would still be the national stadium. It seems like a win-win."
Sport England has given the sale its conditional approval, provided there is suitable investment in the grassroots game.
Bitel said the organisation would do its own due diligence on the deal and wanted to ensure England teams could still play at Wembley and it would continue to host club football's biggest games and rugby league's Challenge Cup final.
He also said Khan, or any other future owner, should not be allowed to sell Wembley's naming rights.
The problems with grassroots football?
There are 21,000 grassroots clubs, 50 county FAs, 25,000 schools and 330 local authorities which are catered for by the FA and, along with the finding that only one in three grassroots pitches are of adequate quality, the FA's written evidence highlighted:
150,000 matches were called off last season due to poor facilities

One in six matches are called off due to poor pitch quality

33 of 50 county FAs are without their own 3G pitch

Cancelled matches account for the equivalent of 5,000,000 playing opportunities lost this year because of poor facilities

There are half the number of 3G pitches in England than there are in Germany
How much does the FA currently spend on grassroots football?
Since 2000, the FA says it has invested around £615m in grassroots football along with the Premier League, Sport England and the DCMS.
The FA has said it would continue with its current strategic plans for grassroots football whether the stadium is sold or not, but the sale would increase the pace of change.
"From the £600m gross sale proceeds, the FA and its partners would significantly accelerate its investment into community football facilities to more than £100m per year for the next 20 years. This would be transformative."
The FA has said extra money could implement the national football facilities strategy - developed by Sport England, the FA, the government and the Football Foundation - within 10 years. Its aims include:
Every FA-affiliated club to have access to a 3G artificial pitch for training and potentially matches

Accelerated improvements to the key grass pitch sites across England to reduce fixture cancellations

Talented players to benefit from more advanced training and competition

Increased numbers of players, coaches, referees, volunteers and administrators

A diverse football-based community that reflects the diversity of the nation