Liverpool: A 'matter of time' before Jurgen Klopp wins trophies, says Ian Ayre
Last updated on .From the section Liverpool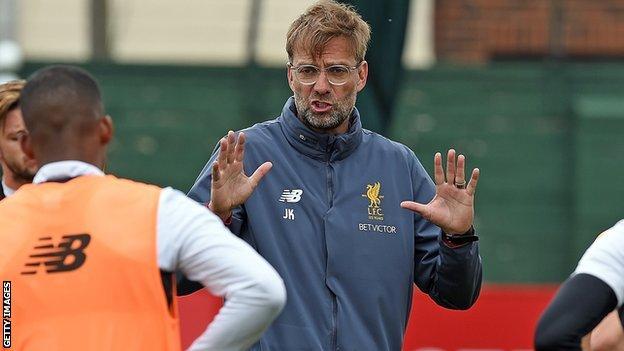 It is only a "matter of time" before Jurgen Klopp starts to win trophies at Liverpool, says former chief executive Ian Ayre.
A lifelong Liverpool fan, Ayre was part of the management group that appointed Klopp to replace Brendan Rodgers in 2015.
Since then, Liverpool have been defeated in three cup finals, the latest in May when they lost 3-1 to Real Madrid in the Champions League.
Success has proved elusive in the Premier League too.
But Ayre says it will not be long before the situation changes.
He told the BBC: "It is just a matter of time. There is definitely progress going on. Maybe luck has not followed Jurgen in the last few years but it will come."
'Jurgen has Liverpool DNA'
Since winning the FA Cup against West Ham on penalties in 2006, Liverpool have reached six major cup finals and won only one.
In the same period they have twice finished runners-up in the Premier League.
Klopp has presided over two fourth-placed finishes in his two full seasons in charge.
Yet, the manner of Liverpool's performances, particularly last season when forward Mohamed Salah broke the Premier League record for most goals in a 38-game season with 32, has generated a feelgood factor around Anfield.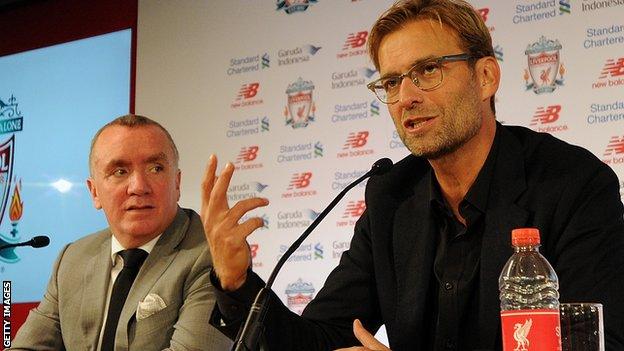 And Ayre, who this month took over as chief executive of the soon-to-be-launched Major League Soccer franchise in Nashville, is confident Klopp will soon be rewarded.
He said: "If you wrote what the DNA of a Liverpool manager might look like, Jurgen would be it.
"Success can be measured in different ways. Of course, it is a football club and I am a Liverpool supporter. Winning trophies is what we all want.
"But you can't underestimate the importance of progress and nobody can question Jurgen has made progress in his time at Liverpool.
"He is the most driven and self-disciplined individual I have ever met.
"I have no doubt he will bring real success, in terms of trophies and championships, to Liverpool sometime soon."
What lies ahead
Liverpool's trophy prospects have not been helped in recent years by the sales of Luis Suarez, Raheem Sterling and Philippe Coutinho for a combined sum of £266m.
But Liverpool have already spent around £100m on new players for the 2018-19 campaign.
Although the deal was done 12 months ago, midfielder Naby Keita has only just arrived from RB Leipzig, a transfer made slightly cheaper than the quoted £51m fee by the German club's failure to qualify for this season's Champions League.
In addition, Liverpool have signed midfielder Fabinho from Monaco for £39m and Xherdan Shaqiri from Stoke after the Reds activated his £13m release clause last week.
After playing Blackburn in their fourth domestic pre-season friendly on Thursday, Liverpool head to the United States where they will play International Champions Cup matches against Borussia Dortmund, Manchester City and Manchester United.
They open their Premier League campaign against West Ham at Anfield on 12 August.