Wayne Rooney: DC United striker on Everton, Man Utd, England & MLS
By Simon Stone
BBC Sport, Washington
Last updated on .From the section Football561
Wayne Rooney left Everton for DC United because he did not want to "hang around and be a dead weight".
The former England captain, 32, said he would not have moved to the United States if his wife and children were not going to join him.
Rooney, who signed a three-and-a-half-year contract, said he remained hungry for success and wanted to win trophies.
He left Everton in June after scoring 208 goals in 491 Premier League appearances over 16 years.
In a wide-ranging interview, Rooney spoke to BBC Sport about his decision to leave England, whether Manchester United can challenge Manchester City, England's World Cup campaign and his coaching ambitions.
'Everton were happy to let me go'
Rooney rejoined Everton from United for an undisclosed fee in July 2017, 13 years after leaving the Merseyside club.
He finished the season with 10 goals in 31 league appearances, but did not score in the final 15 of those games after being moved into midfield under Sam Allardyce.
The Toffees missed out on qualifying for Europe, ending the campaign in eighth spot. Allardyce was sacked at the end of the season and replaced by Marco Silva.
There was no transfer fee involved when he joined DC United but it is understood the Major League Soccer club agreed a compensation package with the Toffees.
"Everton made it clear if there was an offer there, they would be happy for me to go," said Rooney, who made his DC United debut on Saturday.
"I understand they have brought a new manager in, got new staff, they obviously want to bring in players that manager wants.
"I am sure it will release money for the new players who come in. I am sure that was in their thinking.
"I said to them if that is what you want, I am not going to hang round and be a dead weight. I will go somewhere else and play."
'My family are my priority'
Rooney is set to be joined in Washington by his wife, Coleen, and four children.
"I would not have come out if my family did not want to come out. They are my priority. It was important they came over with me," he added.
"I also felt the city was more suited to me and my family than Los Angeles or New York.
"I spoke to the owners, I was excited by the team. They told me about the new stadium and the new training ground they are opening next April. It felt like the club was moving in the right direction."
What next after playing?
Rooney will be 36 when his contract expires and he is already thinking ahead to life after playing.
He is keen to stay in the game and hopes he will have all his coaching badges by the time he retires.
"You do try and plan things but my main focus has to be on what the team does here," said Rooney.
"In the back of my mind, I am hoping that by the end of that three and a half years, I will have all my coaching badges done.
"Then I have the opportunity to do what comes up, whether that is coaching, management or TV.
"I have said before, it would be a shame to walk away from football after being involved in it for so long.
"It is something I have an interest in and am passionate about. If the right option comes up then of course it is something I would look at."
'Young England players need game-time'
Rooney won 119 caps for England and scored 53 goals, while he represented his country at three World Cups in 2006, 2010 and 2014.
He described England's efforts in getting to the semi-finals in Russia this summer as "fantastic" but wants the younger players in the squad to get more game-time at their clubs.
John Stones, 24, made just 16 Premier League starts for Manchester City in 2017-18 while midfielder Ruben Loftus-Cheek, 22, did not play a single game for Chelsea and spent the season on loan at Crystal Palace.
"It was great to watch although I was disappointed we didn't get to the final," added Rooney.
"They had a great tournament. They are a young team. Hopefully the club managers continue to play some of them and they get more game-time."
'United can challenge Man City for title'
Rooney, Manchester United's record goalscorer with 253 goals between 2004 and 2017, is confident Jose Mourinho's side can make a stronger push for the title next season, despite finishing 19 points behind champions Manchester City in 2017-18.
"Obviously they can challenge, it's a massive club. Last year was different because of how well Manchester City did," he said.
"In any other year, they might have won the title. A lot of people looked at what Manchester City did and said Manchester United didn't play that well.
"But they actually had a good season. Obviously they didn't win anything but I think they can take confidence from that and I believe they can push Manchester City next season.
"I saw that people said they weren't playing the most attractive football. But they scored a lot of goals. I think they are getting there. Hopefully it won't be long before they win the title again."
Former England internationals to have played in MLS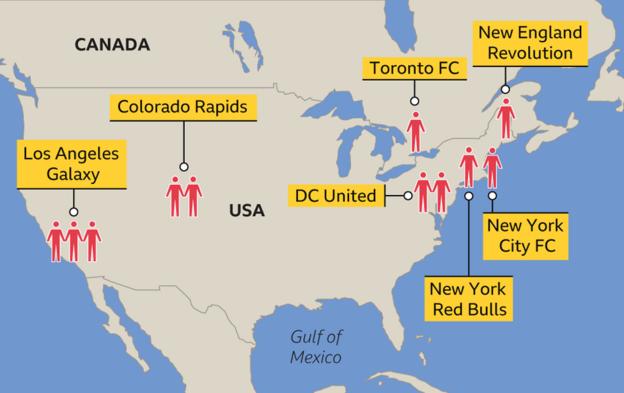 Los Angeles Galaxy:

David Beckham, Ashley Cole, Steven Gerrard

DC United:

Steve Guppy, Wayne Rooney

New York City FC:

Frank Lampard

New York Red Bulls:

Shaun Wright-Phillips

Colorado Rapids:

Zat Knight, Chris Woods

Toronto FC:

Jermain Defoe

New England Revolution:

Steve Howey


'As long as I put my sun cream on before training, I'm OK'
Rooney is a five-time Premier League winner with United, while he has also won three League Cups, one Champions League, one FA Cup and one Europa League.
He is hoping to add to his trophy haul with his new club.
"If DC United do well, I will be happy here. I have come here to win titles," he said. "That is what I hope to achieve whilst I am here."
Rooney is also coming to terms with Washington's extreme summer heat.
"It is tough to train in but it is the same for everyone. I just have to get used to it," he added.
"As long as I put my sun cream on before training, I'm OK."