Wembley sale: FA says only one in three pitches at grassroots level adequate
By Mandeep Sanghera
BBC Sport
Last updated on .From the section Football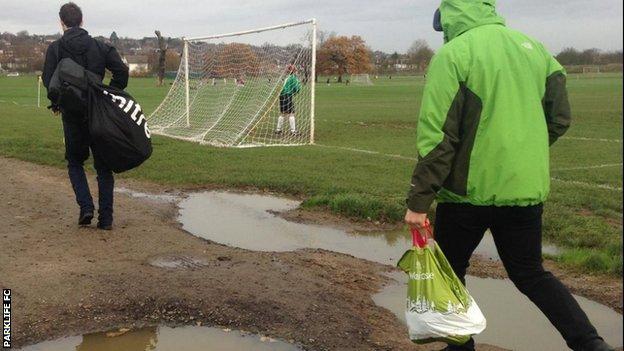 Only one in three pitches at grassroots level is of adequate quality, says the Football Association.
The figure is part of the FA's written evidence for a Digital, Culture, Media and Sport (DCMS) parliamentary hearing on Wednesday about the possible sale of Wembley Stadium.
The FA says it is "considering a sale because it represents a transformative opportunity" to change "the poor state of community football facilities".
The DCMS hearing starts at 14:00 BST.
The FA has received an offer of £600m for the national stadium from Fulham owner Shahid Khan - the governing body would retain Club Wembley rights which it values at £250m-£300m.
Among those taking part in the DCMS hearing are Sports Minister Tracey Crouch and FA chief executive Martin Glenn.
Sport England chair Nick Bitel, former England and Manchester United defender Gary Neville and Katrina Law, co-chair of the Tottenham Hotspur Supporters' Trust, will also answer questions.
The problems with grassroots football?
There are 21,000 grassroots clubs, 50 county FAs, 25,000 schools and 330 local authorities which are catered for by the FA and, along with the finding that only one in three grassroots pitches are of adequate quality, the FA's written evidence also highlights:
150,000 matches were called off last season due to poor facilities

One in six matches are called off due to poor pitch quality

33 of 50 county FAs are without their own 3G pitch

Cancelled matches account for the equivalent of 5,000,000 playing opportunities lost this year because of poor facilities

There are half the number of 3G pitches in England than there are in Germany
"The word for grassroots football is 'crisis,'" said Kenny Saunders, who runs pressure group Save Grassroots Football. "Government cuts to local councils are having a massive impact.
"Councils can't maintain pitches and more of them are selling them off.
"I would welcome the sale of Wembley if the money is ring-fenced for grassroots football and used wisely. We need to build from the bottom."
How much does the FA currently spend on grassroots football?
Since 2000, the FA says it has invested around £615m in grassroots football along with the Premier League, Sport England and the DCMS.
The FA has put £127m back into every level of football during the 2017-18 season and this will rise to £180m from the 2018-19 campaign onwards.
"In 2017, investments included £13m in coaching and participation; £17m to the county FAs for the delivery of community football; £4m in disability, equality and child protection; £20m investment in community football facilities; £5m for women's football development (taking our total spend in women's football to £13m); £36m in FA competition prize funds; £18m of investments in other football organisations and £14m of various other investments," said the FA.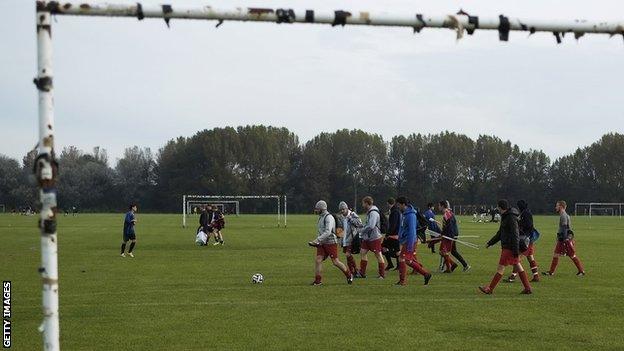 What will money from selling Wembley achieve?
The FA has said it would continue with its current strategic plans for grassroots football whether the stadium is sold or not.
But it has said the sale would increase the pace of change: "A sale would give the FA a further opportunity to significantly invest in community football facilities, in addition to what was announced on 9 January 2018 (an increase from £22m to £31m per annum), and as a result transform community football facilities across England.
"From the £600m gross sale proceeds, the FA and its partners would significantly accelerate its investment into community football facilities to more than £100m per year for the next 20 years. This would be transformative."
The FA has said extra money could implement the national football facilities strategy - developed by Sport England, the FA, the government and the Football Foundation - within 10 years, its aims include:
Every FA-affiliated club to have access to a 3G artificial pitch for training and potentially matches

Accelerated improvements to the key grass pitch sites across England to reduce fixture cancellations

Talented players to benefit from more advanced training and competition

Increased numbers of players, coaches, referees, volunteers and administrators

A diverse football-based community that reflects the diversity of the nation
Also, while any investment would be primarily for football, other sports stand to benefit from improved facilities.
Does it add up?
The FA spent £97m buying the land on which to build Wembley and the total cost of construction came to £695m.
According to the FA's latest financial results, it still owes £107.5m to public bodies such as Sport England, the DCMS, plus the Greater London Authority (GLA), which helped pay to build the stadium that opened in 2007.
The remaining debt would be paid off by the end of 2024, although the FA has said it would "ring fence" the money generated from selling Wembley solely for investment in "community football".
"The public sector funders who provided funds for the stadium originally, would see their funding returned in full and the FA is discussing with them how their funds could then be reinvested into community facilities for football," said the FA.
In terms of the remaining debt "this repayment schedule will not change as a result of whether the stadium is sold or not" and "it is not proposed that any funds from any prospective sale would be used to pay off this debt".
However, Supporters Direct, an organisation set up in 2000 to assist fan ownership and involvement in clubs, said: "In the absence of greater clarity about the terms of any proposed transaction, it is not yet possible to fully assess the indirect financial consequences and the impact on the FA's future revenue streams to make a final judgement on a proposed sale."
If the sale is allowed to proceed, the FA has said it will "open sale process to seek additional offers for the stadium" in addition to the one from Shahid Khan.
What about the matches that take place at Wembley?
The FA's negotiating position when it comes to England games if Wembley is sold is that the stadium should host all key showpiece matches.
In such a scenario, it would "pay a pre-agreed hire fee for the use of the stadium on an event-by-event basis".
It would aim to protect events held at the venue including:
England men's and women's internationals

FA Cup semi-finals and final

FA Vase and Trophy finals

Community Shield

Women's FA Cup final

EFL play-off finals

EFL Cup final

EFL Trophy final

National League play-off final

Rugby League Challenge Cup final
What next?
Any sale would need the consent of the stadium's public sector funders and formal approval from the Secretary of State for the DCMS.
"Ultimately, if we decide to proceed, we would envisage a full and open sale process is run to ensure value is maximised," said the FA.