Football safety: More than 1,800 fans injured at matches in 2016-17
Last updated on .From the section Football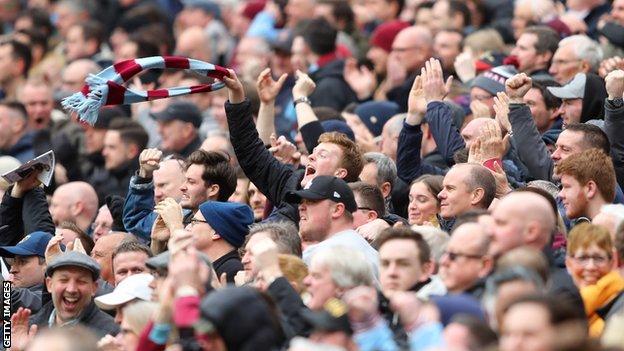 More than 1,800 supporters were injured at football grounds in one season - nearly double the figure reported in the previous year, new data shows.
Falling over, being hit by a ball, celebrations and insect bites were among the causes of the injuries.
A total of 1,865 fans were hurt at matches in the 2016-17 season, up from 963 a year earlier, says the Sports Grounds Safety Authority (SGSA).
It attributes the rise to better reporting of incidents.
"Grounds were reminded of their responsibility to report all injuries. As a result of more detailed reporting, the figures show an increase. We believe this is down to more accurate reporting rather than any actual increase in the number of injuries occurring," said spokeswoman Caroline Hale.
"Sports grounds in the UK are some of the safest in the world and reported injuries are relatively low."
The figures cover 94 grounds - all Premier League and Football League clubs, plus Wembley Stadium in London and Cardiff's Principality Stadium. The majority are all-seater stadiums.
Some of the main categories under which fans were reported to have been injured are:
Trips/falls/slips 500

Cuts 235

Burns/scalds 145

Hit by football 101

Hit by object 75
A total of 46 supporters were hurt while celebrating, another 28 suffered insect bites or stings and 12 were hit by flares.
Reported injuries at football matches

2016-17:

1,865

2012-13:

965

2015-16:

963

2011-12:

1,236

2014-15:

1,011

2010-11:

1,326

2013-14:

1,088

2009-10:

1,386
The figures cover spectators who were hurt at the ground and excludes anyone treated for illnesses or injuries they had before entering the stadium.
Some 35.8 million supporters attended games covered by the report, so it works out as one injury per 19,205 fans. Most of the injuries were minor, although 92 required hospital treatment.
A spokesman for the Football Supporters' Federation (FSF) said: "Safety is paramount to the FSF and fans are able to watch games from superb stadiums throughout the leagues.
"We agree with the SGSA that supporters enjoy a very safe environment and these statistics back that up with one injury per 19,205 fans.
"Of course any rise in reported injuries is of interest and we are in frequent contact with the SGSA on matters relating to supporters."