Euro 2020: Craig Bellamy expects Wales to qualify under Ryan Giggs
Last updated on .From the section Wales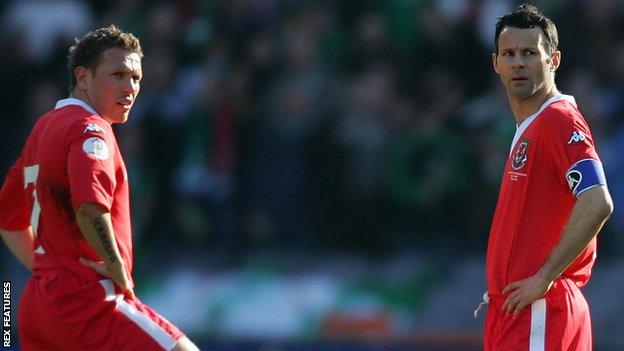 Craig Bellamy expects Wales to reach Euro 2020 under Ryan Giggs after they failed to make the 2018 World Cup finals under former boss Chris Coleman.
Ex-striker Bellamy also believes Wales must improve at junior levels to reach major age-grade tournaments.
Under Coleman, Wales reached the Euro 2016 semi-finals, but they have only been to one World Cup, in 1958.
"I believe in this group and think they have got one or two tournaments in them," said Bellamy.
"I would expect us to qualify for the next Euros."
The Cardiff City academy coach was among Giggs' rivals for the role Coleman vacated in November 2017 and was interviewed by the Football Association of Wales (FAW).
'Playing catch-up'
Giggs' reign began at the China Cup in March and continues in the inaugural Uefa Nations League in September with games against the Republic of Ireland and Denmark.
Bellamy hopes to see progress from a side which has Real Madrid star Gareth Bale as its talisman.
"We have some very talented players and one or two good players coming through," said Bellamy.
"The Euros were a great achievement, but like a lot of teams who haven't qualified for a major tournament in a long time, we got caught in the next one.
"I've seen it so many times that when teams go back into the next tournament they still have a hangover.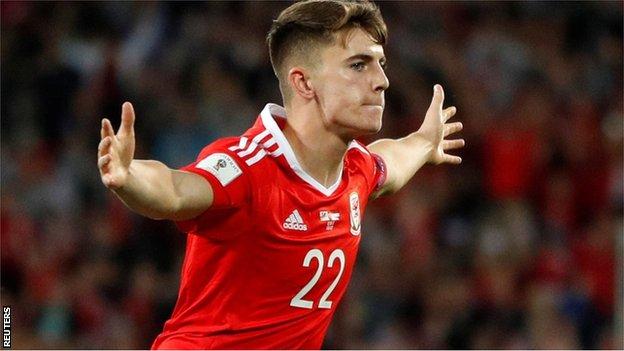 "We were playing catch-up and we just ran out of steam in the end after going on a very good run.
"There is a lot of promise there, but what we have to do is work with the next generation to make sure they come through. They (FAW) have to do that."
The former Liverpool and Manchester City star wants Wales' age-grade teams to play at top tournaments.
"I'm more concerned with the next generation than the current one," he said.
"How do we get them to become successful because at younger age groups we're nowhere near qualifying for major tournaments?
"That needs to be addressed, as does our identity to what the senior team plays like.
"We can build a structure but we must have a clear identity. We talk identity and we're very good at lip service.
"But do we truly believe in it? I haven't seen it and that needs to be hit home for us to have a future in the next 10 to 20 years."
England's example
Bellamy says Wales can look at England's age-grade efforts as a good example.
England won the Under-20 World Cup in June 2017 and in October of the same year they won the Under-17 World Cup in India.
"England have had a lot of success in youth tournaments, winning World Cups, and that tells me straight away they're heading in the right direction," he said.
"They're going to have a lot of confidence on the back of that when it comes to senior level.
"The FA are on the right path, they've got their act together and that's what is putting them ahead of most nations."