World Cup 2018: A classic final to cap an epic World Cup
Last updated on .From the section World Cup222
It was the final which had everything - controversial decisions, a pitch invasion, the first World Cup final own goal, its first teenage goalscorer since Pele, and a comedy goalkeeping error.
Indeed the final was really the tournament in microcosm.
A high-scoring affair
World Cup finals have been low-scoring and tense of late - this game equalled the combined total of goals scored in the previous four. The last final to have more than two goals was in 1998 - the other time Les Bleus won the World Cup.
It was also the joint highest goal tally in a final since 1958, when Brazil beat Sweden 5-2.
Former England defender Rio Ferdinand said on BBC One: "Sometimes these games can peter out to being boring chess matches but this was anything but. Croatia deserve credit for the way they attacked France."
Ex-England captain Alan Shearer said: "As fortunate as they were to be leading at half-time, France totally changed in the second period. They found a way to get Antoine Griezmann and Kylian Mbappe into the game and they tightened up at the back.
"Congratulations to them, they have been magnificent."
The tournament had 169 goals - two short of the record 171 set four years ago in Brazil and in France '98.
We have to mention the VAR
This is the first World Cup to use video assistant referees (VAR). After being utilised regularly in the group stages, it went quiet for most of the knockout stage. But it was used in the final to award France a penalty.
When Samuel Umtiti flicked a corner towards Ivan Perisic's hand, the referee did not award anything. But, after a lengthy discussion with the video assistant referee, he went to watch it on a screen - and awarded a penalty.
While many were angry with VAR, it should be noted it was referee Nestor Pitana's decision to award the penalty, after viewing the incident several times. Antoine Griezmann scored.
The BBC One pundits all thought it was the wrong decision, though former England winger Chris Waddle disagreed.
Shearer said at half-time it was a "ridiculous decision".
"It will be such a shame if this game is decided on that decision," he said. "That is not a deliberate handball and it shouldn't be a penalty. The referee didn't give it initially, but then he is certain he has made an error after going to the VAR? I don't agree with it."
Ferdinand said: "Two bad decisions have turned the game on its head. It is too close for Ivan Perisic to react. He is not going to deliberately handle the ball.
"The referee took so long so he can't be certain. He can't! It becomes almost laughable. He can't be clear."
Former Germany striker Jurgen Klinsmann said: "When you are not sure, you don't give it. It is the wrong decision."
Griezmann's goal was the 22nd penalty scored at this World Cup - a record. It was the 29th spot-kick taken - the highest since the stats were first recorded in 1966.
First own goal in a final
This has been the World Cup of own goals - 12 in total. So it was only right that the final had one.
Mario Mandzukic's header from Griezmann's free-kick - which made it 1-0 to France - made him the first player to score an own goal in a World Cup final.
That doubled the record for own goals in a tournament. It also means there were twice as many own goals as top scorer Harry Kane managed in Russia.
After that goal, Waddle - on BBC Radio 5 live - described Russia 2018 as the "tournament of set-pieces".
He had a point - 73 of the 169 goals scored came from set-piece situations (43%) - the highest ratio since those stats started in 1966.
First teenage goalscorer since Pele
Kylian Mbappe was only the third teenager to play in a World Cup final - and became the second to score in one, following Pele's double against Sweden in 1958.
Earlier in the tournament, Mbappe put in perhaps the most electrifying performance of the tournament with two goals against Argentina - which made him the first teenager to score twice in any World Cup game since the Brazil legend.
It might be hard to argue it was a true breakthrough tournament for a player who has cost Paris St-Germain £159m - but the 19-year-old finished with four goals and was unsurprisingly named young player of the tournament.
The BBC pundits feel he might be the man to end Cristiano Ronaldo and Lionel Messi's combined 10-year hold on the Ballon d'Or, the award for the world's best player.
"He is the guy who will be standing up on that Ballon d'Or podium in years to come. Easy," said Ferdinand.
"To come to a World Cup with all eyes on you, and to do this at 19 years old... what a great strike. It's the intelligence and the decision-making. Kylian Mbappe makes the right decisions so often. There is already maturity beyond his years."
Klinsmann said: "There is so much to come down the road. He is shaking up the market. With Ronaldo moving and Neymar being linked with other clubs, where is it finishing with this kid?
"What impresses me most is that he is already a part of the French team that is like a family. He looks so comfortable in this side, like he has been playing in it for 10 years."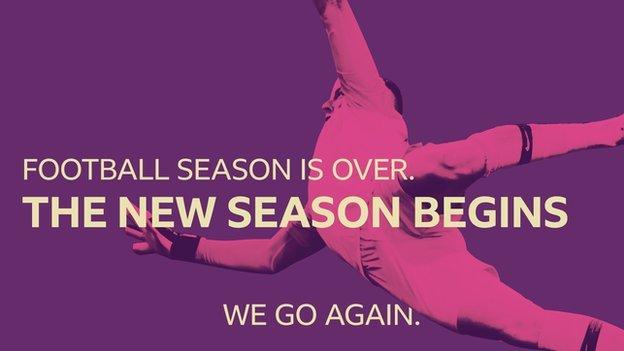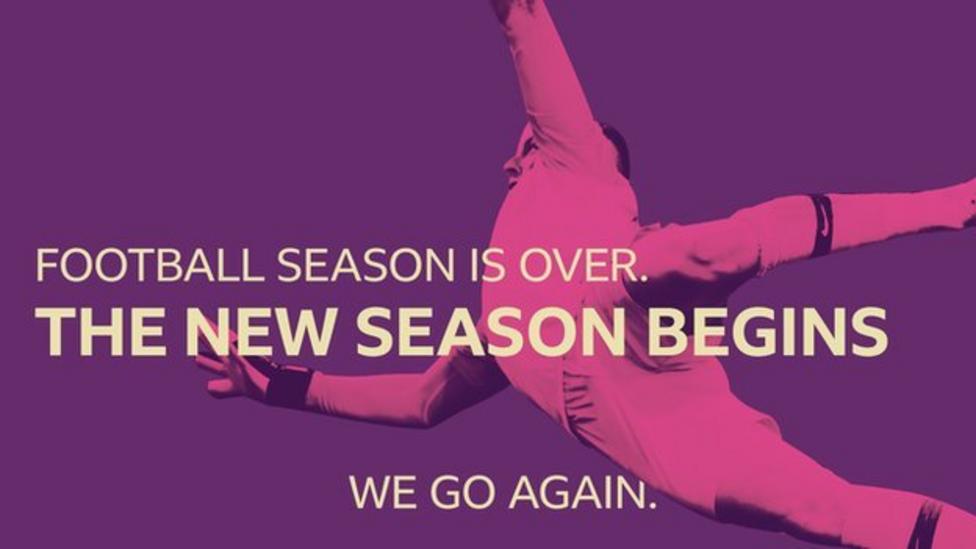 Bizarre error
In a season during which Loris Karius made possibly the worst goalkeeping mistake in a Champions League final to gift Karim Benzema a goal, Hugo Lloris had a 'hold my beer' moment at the Luzhniki Stadium.
Samuel Umtiti passed the ball back to his captain, the Tottenham goalkeeper. Lloris casually tried to step around Mandzukic - only managing to kick the ball off the striker and into his own net.
"What on earth is Hugo Lloris doing? He is in a World Cup final and he's been punished for taking liberties," said BBC One co-commentator Martin Keown.
It was probably the biggest mistake of the World Cup, although Germany keeper Manuel Neuer losing the ball 80 yards from goal as South Korea scored a second to knock them out in the group stages will live long in the memory.
The goal did give Mandzukic a couple of claims to fame. He is only the second player to score a goal and an own goal in a World Cup game - and the first in a final.
And he is just the fifth player to score in a World Cup and European Cup or Champions League finals - the first since Zinedine Zidane.
Pitch invasion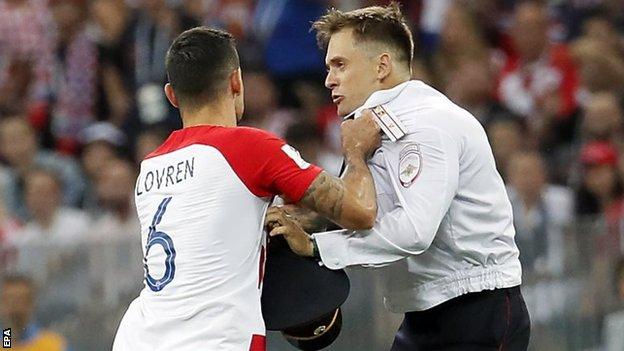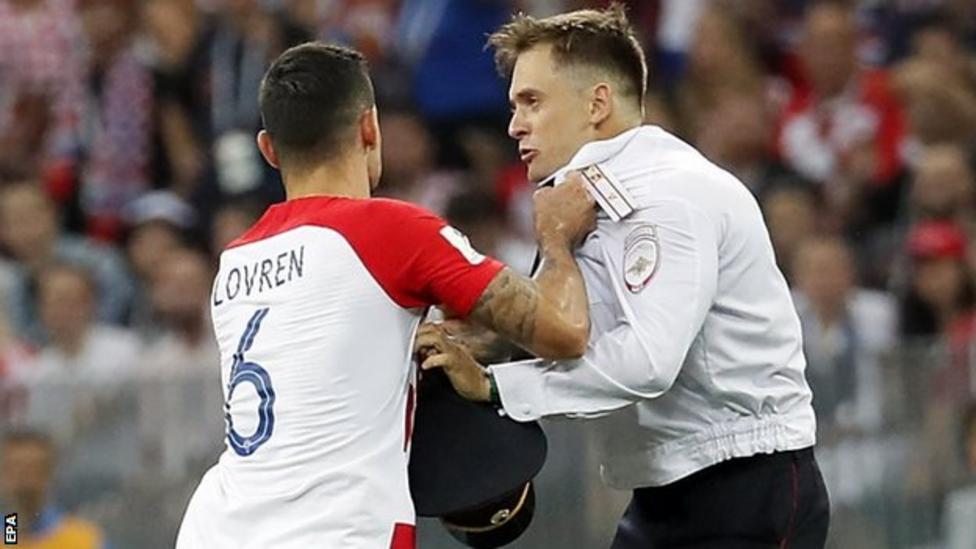 There had been worries about Russia hosting the tournament, with concerns about the potential for racism, hooliganism, and gay fans being at risk of violence.
But it appeared to go off smoothly.
Until, that is, a pitch invasion in the final which Russian punk rock group Pussy Riot claimed responsibility for, saying they were protesting against various political issue in the country.
Staff acted quickly to get them off the pitch - though several had confrontations with players on both sides.