World Cup 2018: England can win a major tournament, says FA's Dan Ashworth
Last updated on .From the section World Cup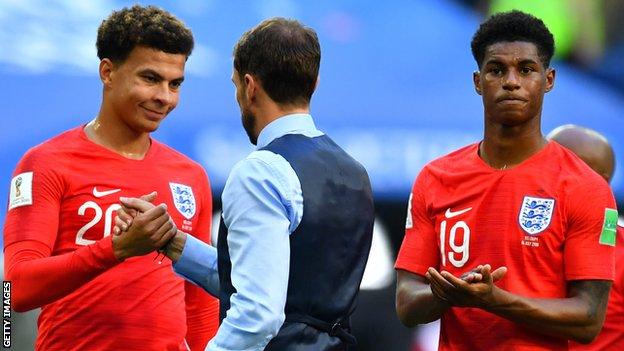 England can win a major tournament in the next six years, according to the FA's technical director Dan Ashworth.
Gareth Southgate's side came fourth in the 2018 World Cup, their best result since 1990, losing 2-0 to Belgium in the third-fourth play-off on Saturday.
"I sincerely hope and believe that over the next two, four, six years we've got some players in the system that will help England win," he said.
But he added: "I don't think we've achieved anything yet."
Speaking to BBC sports editor Dan Roan, he said England "have shown some signs of progress".
"But until we win a World Cup or a European Championships, that's when you sit back and say 'OK, we've actually won something'," he added.
"We're a bit young, and we haven't got quite enough caps for a winning team so it is not surprising we didn't get over the line in the end - but it was not a massive surprise to me that we got so far [in Russia]."
Euro 2020 takes place in 12 countries with the final at Wembley, the 2022 World Cup will be staged in Qatar, with Germany or Turkey to host Euro 2024.
England, World Cup winners in 1966, reached the semi-finals for only the third time in their history in Russia.
It was also the first time they had got that far for 28 years, having finished bottom of their group four years ago in Brazil.
"We've got some good players in our senior team and some good technical players in our development pathway as well," added Ashworth.
"We're probably a little bit short on big-game experience, a bit short on number of national caps and we're a bit young for what a winning national team looks like."
England are next in action when they play Spain on 8 September in the newly-formed Uefa Nations League, a competition that offers countries a chance to qualify for Euro 2020, alongside the regular qualifying tournament.
"Our foot is absolutely flat to the floor, we've got Spain in six weeks in the Nations League and we're back into the cycle," said Ashworth.
"I believe in the players we have in the system and I'm optimistic about the future."
'As we improve we will be able to handle those increased expectations'
England manager Gareth Southgate also felt there was more to come from his players in future, insisting: "We have gone beyond what we thought was possible.
"The players have been brilliant ambassadors and have played at their maximum for where they are at this time. We have progressed as far as any England team that has left our shores.
"The biggest thing for me is the ethos of the players and their desire to do better. We have done well but there is still more to do if we want to be a really top team.
"There have been a couple of times against those top teams where we haven't created enough quality in the final third. As we improve we will be able to handle those increased expectations so that won't be an issue for us."