World Cup final: Adrian Chiles on Croatian roots & feelings on Russia showpiece

By Adrian Chiles
BBC Radio 5 live
Last updated on .From the section World Cup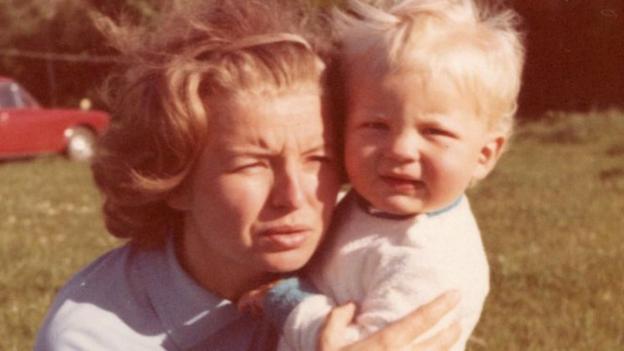 Adrian Chiles' father is English and mother Croatian.
Football finds new ways of torturing me all the time.
On Wednesday night I couldn't enjoy a team I love winning a semi-final of a World Cup because they'd gone and beaten another team I love. But I feel truly blessed to be here watching a team of mine in the final.
I suppose this story starts in 1962 when Mum, then Ljerka Basic, finished university in Zagreb, which was then in a country called Yugoslavia, and made her way across Europe to the UK.
She found work as an au pair for a family in Edgbaston in Birmingham. The cleaning woman, Dad's Auntie Doris, suggested her nephew Peter take her out some time. And that was that. Before long I turned up.
When I first got a Croatian national team to support a quarter of a century ago, I'd already been put through the wringer by England for about as long. The Italia '90 semi-final defeat was unbearable, the 1992 Euros were unbearable in a different way, and our failure to qualify for the 1994 World Cup was the stuff of nightmares.
We (England) were awful - but suddenly I had another "we" to support in the shape of Croatia.
I remember their first unofficial international, against the USA, and thinking it was all very nice that this new country of mine had a football team.
But then we beat Italy in Palermo in a qualifier for Euro '96 and I felt the first tingling of excitement that something special was happening.
Come the tournament, their red-and-white checkerboard shirts captivated everyone - and beating Denmark at Hillsborough was something special. I got a coach up from London with a load of Croatian friends. As we got close to the ground many of them shed tears at the sight of beat-up old buses all the way from Croatia.
The war was not long over; it felt like football was now helping the country really come alive.
That match was a beautiful thing. We won 3-0 with Davor Suker sublimely chipping Peter Schmeichel. I went so berserk that a copper took me to one side explaining very slowly and forcefully that I should calm myself. I realised he assumed I didn't speak English. I apologised very sincerely.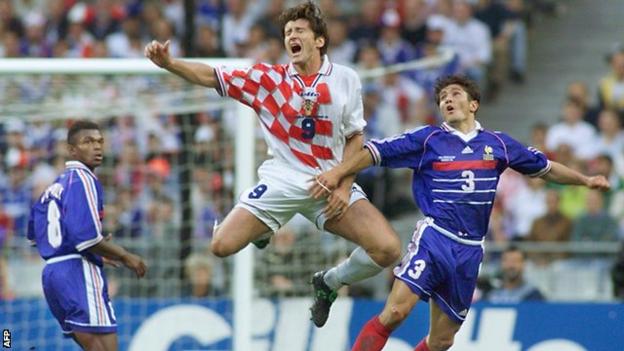 Two years later I was going berserk again.
This time it was a World Cup quarter-final against Germany. I was in Toronto for a mate's wedding and found an enormous bar called The Cro's Nest. There must have been 500 Croats in there. We won 3-0. It was complete mayhem.
I flew back home, then to Paris for another day of red-and-white-checked madness before the semi-final that France won fair and square. It is a result Croatians have been swearing to avenge for two decades. Sunday is our chance.
In those 20 years we've had a chaotic mixed bag from Croatia: qualifying for tournaments, not qualifying; beating some great sides, being beaten by some poor sides; and finding ways of beating ourselves.
Think Goran Ivanisevic, a personification of Croatia and its football team in tennis-playing form.
He was unplayable for long periods in which he brimmed with lethal self-confidence - only to then fall to pieces in a hail of apparent loathing for himself, his racquet, the umpire, a line judge, the world and anything else he could think of.
That's Croatia all over. I was asked the other day if Croatia had an inferiority or superiority complex. The answer is both.
They'll tell you all day long they're the greatest people, from the greatest country ever, with the best athletes anywhere, the bluest sea, the best olive oil, cheese, ham, wine etc etc etc.
And just as you're getting a bit bored of hearing that, they'll go into a diatribe about how the country is corrupt, going to pot, doomed to failure and chaos, how everyone wants to leave but can't and blah blah blah.
For heaven's sake, some of them have even found a way of actually not wanting Croatia to win because of something to do with Luka Modric's relationship with the disgraced 'Mr Big' of Croatian football, Zdravko Mamic.
And when I told Mum I'd interviewed the Croatian president, Kolinda Grabar-Kitarovic - she of the checkerboard dress and jigs of delight at the quarter-final, she said: "Oh yes, she's great, but a lot of my friends don't like her. Then again, nobody there seems to like anyone else there any more."
I spend a lot of time in Croatia. I love the place and the people so much, I really do. But at the same time they drive me nuts. Funnily enough, I think that's roughly how Mum and I feel about each other.
When Ivanisevic won Wimbledon in 2001 the whole country wept with joy and relief. I swear the ground shook beneath their feet. I am genuinely fearful that if we win on Sunday there will be a risk of some kind of seismic event in Croatia. The place may actually combust with joy. Who knows, they might even stop arguing between themselves for a minute.
Can they do it? I think they can. They're a special team with a couple of really special players who are on an absolute roll.
France are arguably stronger on paper, but their opponents will - typically for Croatia - embrace the status of underdog while at the same time feeling quite sure they'll win.
The French are favourites, but football is chaos. And when it comes to chaos, the Croatians are in their element.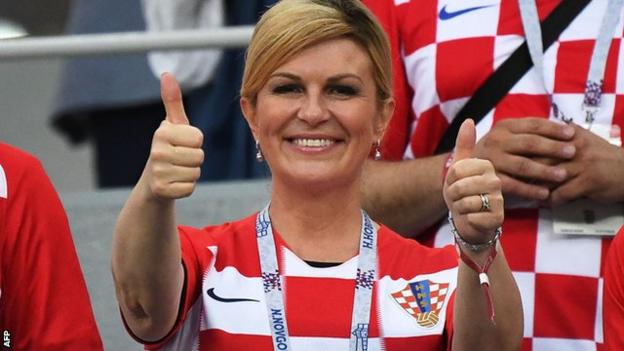 2018 Fifa World Cup final, France v Croatia
Venue:
Luzhniki Stadium, Moscow
Date:
Sunday, 15 July
Kick-off:
16:00 BST
Coverage:
Watch on BBC One, BBC Sport website and iPlayer; Listen on Radio 5 live; Text commentary online