League of Ireland: Bray Wanderers players to go on strike over unpaid wages
Last updated on .From the section Irish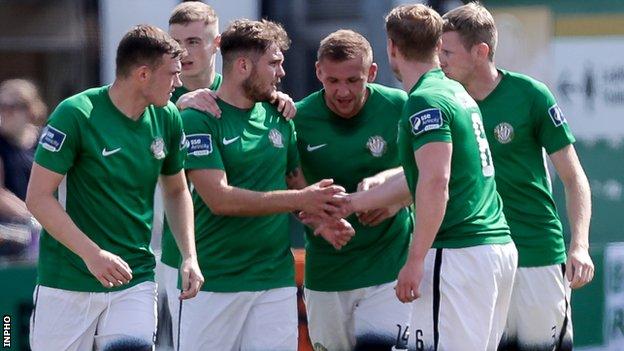 The first-team squad at League of Ireland strugglers Bray Wanderers are going on strike in a dispute over unpaid wages.
The players were last paid on 25 May and they have not trained since failing to receive wages two weeks ago.
Strike action is being taken as there is "no prospect of this appalling situation being resolved," said the players in a statement.
"This is a last resort action but we feel we have been left with no choice."
Seven days notice must be given to employers so the players will be available for the 20 July match against Bohemians but strike action will take place for the game with Cork City a week later.
Negotiations between the Professional Footballers' Association of Ireland and the club have failed to resolve the issue.
The Co Wicklow team lie six points adrift at the bottom of the Premier Division.
"We are all players who rely on our weekly wage to pay our bills, mortgages and every day living expenses," the statement added.
"During the time frame, players who required operations due to injuries were forced to pay for their own operations, as the club was unable to pay for same.
"This is, of course, the second season that contract issues have arisen and it is hugely disappointing that the club have allowed this situation to arise.
"We have now lost all trust in the club to respect our contracts."