Maurizio Sarri: Who is the new Chelsea manager and what is his football history?
By James Horncastle
European football writer
Last updated on .From the section European Football111
Forgive Antonio Conte if Friday felt a little like groundhog day. After all, it's not the first time he has been sacked and replaced by Maurizio Sarri.
Implicated in the Calciopoli match-fixing scandal in 2006, the job of keeping Arezzo in the second division was never going to be easy with a six-point penalty. Fortunately, club president Piero Mancini had an eye for a top manager. Unfortunately, he kept panicking.
Mancini famously fired Conte in October 2006, pinning his hopes for survival on Sarri. But it wasn't long before Mancini got cold feet. Back came Conte in March and, although results picked up, it was too late. Arezzo were relegated and have never recovered.
Sadly they went bankrupt in March. "I had the future manager of Italy and Sarri and we still went down," Mancini sighed, incredulous. It's a funny old game.
Who is Sarri?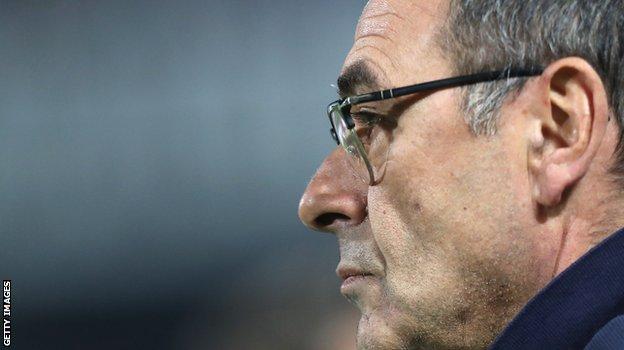 Sarri had already been coaching for more than 15 years when he succeeded Conte at Arezzo. He began in the same summer as Italia 90. If you've ever been to Tuscany, the chances are you have driven through a village whose team was coached by him at one time or another.
Sarri never made it as a player. He was a rugged, non-league centre-back mentored by the great Kurt Hamrin, the Swede who used to regale his players with stories about playing against Brazil great Pele in the 1958 World Cup final and all those goals he scored for Fiorentina.
Unable to make a living as a footballer, Sarri worked as a foreign currency trader at the Banca Toscana. He was attached to the international department, which involved business trips to Europe's financial centres, including the City of London. But the role never stoked Sarri's imagination quite like football did.
He coached part-time, hopping from one Tuscan town to another: Stia, Faellese, Cavriglia, Antella, Valdema, Tegoleto - you get the picture. Strongly influenced by Arrigo Sacchi, whose AC Milan side he taped and studied with great attention, Sarri one day decided to follow in his footsteps.
Sacchi worked for a shoe company and used conventions in Europe as an excuse to watch Ajax before jacking it all in to become a coach. Like Sarri, he had a non-playing background and coined the famous phrase: "You don't need to have been a horse to be a jockey."
So, in 2001, as Italy prepared to adopt the euro and foreign currency traders like him were no longer as useful to banks as they had been in the past, Sarri decided to take a leap of faith and leave his well-paid nine-to-five for what he says is "the only job I would do for free".
Unlike Sacchi, who was 41 when AC Milan appointed him in 1987, and Conte, who got his first top-flight job with Atalanta shortly after his 40th birthday, Sarri did not reach Serie A until four years ago, aged 55. He did it the hard way.
Sarri was not plucked out of the lower divisions as the next big thing in coaching, like Juventus boss Massimiliano Allegri was when Cagliari took a punt on him after he achieved promotion to the second division with Sassuolo. He needed to take a team up himself in order to show he belonged there.
That Sarri's talent went unacknowledged for so long in the upper echelons of the Italian game has become a source of some embarrassment in Italy. One reason Sarri lay undiscovered is because he had to wait years to get on the famous Supercorso at Italy's elite coaching school. He didn't have the contacts, nor the pedigree of being an ex-player to be put at the front of the queue.
Another is the lack of patience in the Italian game. Often Sarri got the boot before his ideas had time to take hold. "Like every revolutionary Sarri was long misunderstood," wrote Francesco Saverio Intorcia in La Repubblica.
"The young Walt Disney was sacked because he lacked imagination. They advised Marilyn Monroe to become a secretary and Elvis to go back to driving a lorry."
Luckily Sarri did not pack it all in and return to the banking sector. Had he done so he would now be chancellor of the exchequer, Inter manager Luciano Spalletti has quipped.
What can Chelsea expect?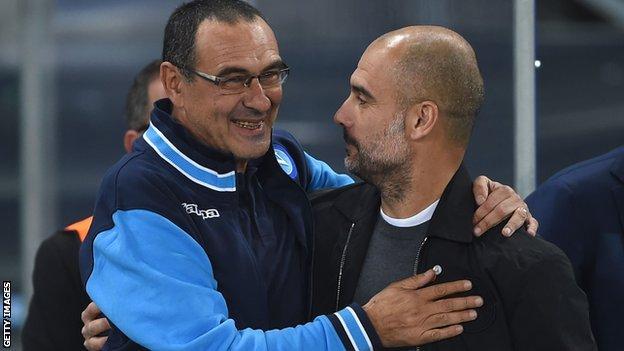 Pep Guardiola, no less, is a huge fan of Sarri's. Before Manchester City played Napoli in the Champions League last season, the Catalan couldn't hide his respect for the Tuscan's brand of football.
"I encourage you and the fans to come next Tuesday because they will watch an amazing game," said the City boss. "Two teams with the same idea: high pressing, win the ball, short passes, dynamic in front. I am very pleased to face one of the coaches I admire the most."
At a charity golf day put on by former Chelsea player and manager Gianluca Vialli every year to raise money and awareness of amyotrophic lateral sclerosis, also known as Lou Gehrig's disease, Guardiola called the football Napoli play "a brindisi al sole" - a toast to the sun - presumably because you can't help but raise a glass to it when confronted by its splendour.
Shortly afterwards, Guardiola went out for a bite to eat with Sacchi and Sarri in Milano Marittima, which sounds like a fantasy dinner party for football purists everywhere. It speaks volumes that Sarri has the respect of two of the game's pioneers.
But Sacchi and Guardiola are not the only ones. When Bournemouth manager Eddie Howe attended some of Sarri's training sessions at Empoli, it opened his mind to a different way of approaching certain phases of play.
At a coaching conference in Rio de Janeiro last summer, former Milan, Roma, Juventus and England boss Fabio Capello recommended his South American colleagues fly out to study Sarri's methods up close.
He said he told them: "There's something new in football thanks to Sarri. Something interesting. Every 20 years there is some innovation. After Ajax there was Sacchi's Milan, then Guardiola, who sent football to sleep a little. Luckily Sarri is waking it up again."
Vialli put it another way in La Gazzetta dello Sport. "Going to [Napoli's training ground] Castelvolturno is like going to Palo Alto [part of the high-tech Silicon Valley near San Francisco]. There's innovation, creativity."
How will he fit into Chelsea's structure?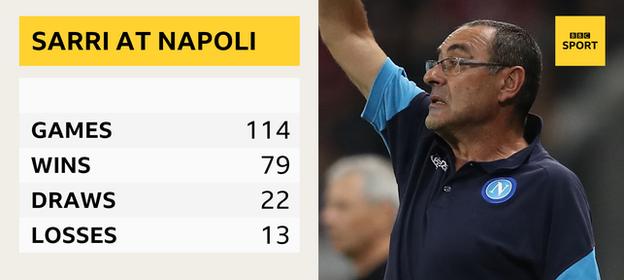 Just as Conte changed the Premier League with the back three, expect Sarri to enrich the game in this country from a tactical perspective. Chelsea can expect to transition from one style to another.
The contrasts are stark between Sarri and Conte. But the players will experience the same meticulous attention to detail.
In the summer of a World Cup dominated by set-pieces it feels entirely appropriate that the Premier League is welcoming a manager who was nicknamed "Mister 33" for the sheer variety of corner and free-kick routines he devised.
Watford midfielder Nathaniel Chalobah spent a year on loan at Napoli two seasons ago and couldn't believe how much time was spent on throw-ins.
"I got there and I'd never practised a throw-in in my life," he said. "They have 10 different signals and they gave me a sheet of paper to study after my first day. At this point I'm lost.
"He got really impatient with me as he expected me to pick it up really quickly. I used to stand behind [Marek] Hamsik and follow him to see what he was doing."
Think of them as brushstrokes in the masterpiece Sarri painted at Napoli.
He didn't win anything in his time at the San Paolo. But as Spalletti said of his fellow Tuscan, Sarri deserved "lo Scudetto del Manuale del Calcio" - the textbook title - because football, as Sarri teaches it, is how it should be taught everywhere.
It's beautiful to watch and should generate great excitement among Chelsea fans.