Premier League pre-season fixtures: Where are your club playing?
Last updated on .From the section Premier League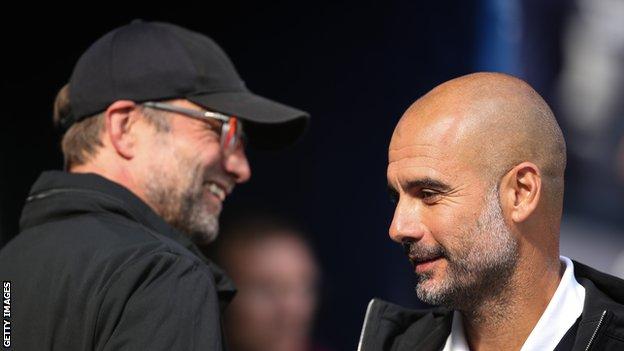 The 2018-19 Premier League season kicks off on 10 August, but before then clubs are travelling the globe for a host of high-profile and intriguing friendlies.
From the United States to Australia via mainland Europe and Asia, the 20 top-flight clubs will be involved in more than 100 fixtures this summer.
Among the things on the agenda are building fitness, helping new players and managers settle in, and a bit of brand promotion too.
Pre-season fixture list:
Arsenal
14 July: Boreham Wood 0-8 Arsenal (Meadow Park)
26 July: Arsenal 1-1 Atletico Madrid (1-3 penalties) (Singapore Sports Hub)
28 July: Arsenal 5-1 Paris St-Germain (Singapore Sports Hub)
1 August: Arsenal 1-1 Chelsea (6-5 penalties) (Aviva Stadium, Dublin)
4 August: Arsenal 2-0 Lazio (Friends Arena, Stockholm)
Bournemouth
14 July: Sevilla 1-1 Bournemouth (La Manga)
20 July: Levante 4-3 Bournemouth (La Manga)
27 July: Bristol City 1-1 Bournemouth (Ashton Gate)
28 July: Nottingham Forest 2-0 Bournemouth (City Ground)
3 August: Bournemouth 0-2 Real Betis (Vitality Stadium)
4 August: Bournemouth 5-2 Marseille (Vitality Stadium)
Brighton
14 July: St Gallen 1-1 Brighton (Kybunpark)
21 July: AFC Wimbledon 2-1 Brighton (Cherry Red Records Stadium)
24 July: Charlton Athletic 1-1 Brighton (The Valley)
28 July: Birmingham City 1-1 Brighton (St Andrew's Stadium)
3 August: Brighton 2-1 FC Nantes (Amex Stadium)
Burnley
13 July: Cork City 0-1 Burnley (Turners Cross)
20 July: Macclesfield Town 0-2 Burnley (Moss Rose)
20 July: Curzon Ashton 2-5 Burnley (Tameside Stadium)
23 July: Preston North End 2-3 Burnley (Deepdale)
26 July: Aberdeen 1-1 Burnley - Europa League second qualifying round first leg (Pittodrie)
29 July: Burnley 0-0 Montpellier (Turf Moor)
2 August: Burnley 2-1 Aberdeen - Europa League second qualifying round second leg (Turf Moor)
5 August: Burnley 0-2 Espanyol (Turf Moor)
Cardiff City
16 July: Tavistock AFC 0-6 Cardiff (Langsford Park)
18 July: Bodmin Town 1-11 Cardiff (Priory Park)
20 July: Torquay 1-1 Cardiff (Plainmoor)
25 July: Rotherham United 2-1 Cardiff (New York Stadium)
28 July: Burton Albion 1-5 Cardiff (Pirelli Stadium)
31 July: Greenock Morton P-P Cardiff (Cappielow Park)
4 August: Cardiff 1-2 Real Betis (Cardiff City Stadium)
Chelsea
23 July: Perth Glory 0-1 Chelsea (Optus Stadium, Perth)
28 July: Chelsea 1-1 Inter Milan (5-4 penalties) (Allianz Riviera Stadium, Nice)
1 August: Arsenal 1-1 Chelsea (6-5 penalties) (Aviva Stadium, Dublin)
5 August: Chelsea 0-2 Manchester City - FA Community Shield (Wembley)
7 August: Chelsea 0-0 Lyon (5-4 penalties) (Stamford Bridge)
Crystal Palace
12 July: Helsingor 2-2 Crystal Palace (Helsingor Stadium, Helsingor)
16 July: Halmstads 1-6 Crystal Palace (Orjans Vall, Halmstad)
17 July: Bromley 1-0 Crystal Palace (Hayes Lane)
21 July: Oxford United 1-3 Crystal Palace (Kassam Stadium)
24 July: Stevenage 1-2 Crystal Palace XI (Lamex Stadium)
28 July: Reading 0-4 Crystal Palace (Madejski Stadium)
31 July: Boreham Wood 0-1 Crystal Palace (Meadow Park)
4 August: Crystal Palace 4-1 Toulouse (Selhurst Park)
7 August: Kingstonian 0-0 Crystal Palace (King George's Field)
Everton
14 July: ATV Irdning 0-22 Everton (ATV Arena, Irdning)
18 July: Bury 1-1 Everton (Gigg Lane)
21 July: Everton 0-0 Lille (5-3 penalties) (Estadio Algarve, Portugal)
22 July: Porto 1-0 Everton (Estadio Algarve, Portugal)
26 July: Blackburn 3-0 Everton (Ewood Park)
28 July: Rennes 4-1 Everton (Stade Municipal Vitre)
4 August: Everton 2-3 Valencia (Goodison Park)
Fulham
7 July: Fulham 4-2 Crawley Town (Motspur Park)
14 July: Fulham 0-0 Reading (EBB Stadium, Aldershot)
21 July: Lyon 4-0 Fulham (Stade Pierre Rajon, Bourgoin-Jallieu)
1 August: Fulham 0-1 Sampdoria (EBB Stadium, Aldershot)
4 August: Fulham 2-2 Celta Vigo (Craven Cottage)
Huddersfield
10 July: Bury 0-4 Huddersfield (Gigg Lane)
14 July: Accrington Stanley 3-0 Huddersfield (Wham Stadium)
18 July: Dynamo Dresden 0-0 Huddersfield (Stadion Am Sommerdamm, Russelsheim)
21 July: Real Betis 2-0 Huddersfield (Stadion Essen)
21 July: Werder Bremen 1-0 Huddersfield (Stadion Essen)
22 July: SV Darmstadt 98 1-1 Huddersfield (Merck-Stadion am Bollenfalltor, Darmstadt)
25 July: Huddersfield 3-1 Lyon (John Smith's Stadium)
31 July: Huddersfield 2-1 Bologna (Brixen Im Thale, Austria)
3 August: Huddersfield 3-0 RB Leipzig (Schwaz, Austria)
Leicester
21 July: Notts County 1-4 Leicester (Meadow Lane)
1 August: Leicester 1-1 Valencia (King Power Stadium)
4 August: Lille 1-2 Leicester (Stade Pierre-Mauroy, Lille)
Liverpool
7 July: Chester 0-7 Liverpool (Swansway Chester Stadium)
10 July: Tranmere Rovers 2-3 Liverpool (Prenton Park)
14 July: Bury 0-0 Liverpool (Gigg Lane)
19 July: Blackburn 0-2 Liverpool (Ewood Park)
22 July: Liverpool 1-3 Borussia Dortmund (Bank of America Stadium, Charlotte)
25 July: Manchester City 1-2 Liverpool (Giants Stadium, New Jersey)
28 July: Manchester United 1-4 Liverpool (Michigan Stadium, Michigan)
4 August: Liverpool 5-0 Napoli (Aviva Stadium, Dublin)
7 August: Liverpool 3-1 Torino (Anfield)
Manchester City
20 July: Manchester City 0-1 Borussia Dortmund (Soldier Field, Chicago)
25 July: Manchester City 1-2 Liverpool (Giants Stadium, New Jersey)
28 July: Bayern Munich 2-3 Manchester City (Hard Rock Stadium, Miami)
5 August: Chelsea 0-2 Manchester City - FA Community Shield (Wembley)
Manchester United
19 July: Manchester United 1-1 Club America (Phoenix University Stadium, Arizona)
22 July: Manchester United 0-0 San Jose Earthquakes (Levi's Stadium, Santa Clara)
25 July: AC Milan 1-1 Manchester United (8-9 penalties) (Rose Bowl, Pasadena)
28 July: Manchester United 1-4 Liverpool (Michigan Stadium, Michigan)
1 August: Manchester United 2-1 Real Madrid (Hard Rock Stadium, Miami)
5 August: Bayern Munich 1-0 Manchester United (Allianz Stadium, Munich)
Newcastle
17 July: St Patrick's Athletic 0-2 Newcastle (Richmond Park, Dublin)
24 July: Hull City 2-2 Newcastle (KCOM Stadium)
28 July: Porto 0-0 Newcastle (Estadio do Dragao, Porto)
1 August: SC Braga 4-0 Newcastle (Estadio Municipal de Braga)
4 August: Newcastle 0-1 Augsburg (St James' Park)
Southampton
5 July: Schalke 04 3-3 Southampton (Kunshan Sports Centre Stadium)
11 July: Jiangsu Suning 2-3 Southampton (Xuzhou Olympic Sports Centre Stadium)
21 July: Derby County 3-0 Southampton (Pride Park)
1 August: Southampton 3-2 Celta Vigo (St Mary's Stadium)
4 August: Southampton 0-3 Borussia Monchengladbach (St Mary's Stadium)
Tottenham Hotspur
25 July: Roma 1-4 Tottenham (SDCCU Stadium, San Diego)
28 July: Barcelona 2-2 Tottenham (5-3 penalties) (Rose Bowl, Pasadena)
31 July: Tottenham 1-0 AC Milan (US Bank Stadium, Minneapolis)
4 August: Girona 4-1 Tottenham (Estadi Montilivi, Girona)
Watford
17 July: FC Koln 1-1 Watford (behind closed doors)
21 July: Dusseldorf 1-3 Watford (behind closed doors)
27 July: Stevenage 0-1 Watford (Lamex Stadium)
28 July: Brentford 1-2 Watford (Griffin Park)
4 August: Watford 1-1 Sampdoria (Vicarage Road)
West Ham
8 July: FC Winterthur 3-2 West Ham (Schutzenwiese Stadium, Winterthur)
14 July: Wycombe Wanderers 0-1 West Ham (Adams Park)
21 July: Preston North End 2-2 West Ham (Deepdale)
25 July: Aston Villa 1-3 West Ham (Bescot Stadium, Walsall)
28 July: Ipswich Town 1-2 West Ham (Portman Road)
31 July: Mainz 1-1 West Ham (6-7 penalties) (Kufstein Arnea)
3 August: Angers 0-1 West Ham (Das. Goldberg-Stadion, Grodig)
Wolves
10 July: Basel 1-2 Wolves (Tissot Arena, Biel)
14 July: Young Boys 0-4 Wolves (Berner Stadion Neufeld, Bern)
19 July: Wolves 1-1 Ajax (Banks's Stadium, Walsall)
25 July: Stoke City 0-0 Wolves (Bet365 Stadium)
4 August: Wolves 2-1 Villarreal (Molineux)