England beaten by Croatia at World Cup: 'It's the what-ifs that hurt the most'

By Tom Fordyce
Chief sports writer
Last updated on .From the section World Cup1191
The disappointment comes in waves.
Mario Mandzukic's shot ripples the net and the first one hits. You come up for air. Seconds later, looking back up at the screen and those around you and understanding that it is real. That's wave two. Then comes the realisation of what it means: time slipping, hope going, odds escalating.
One, two, three. They keep coming when the final chance disappears, and the whistle sounds and it all goes quiet. There is a rational urge to just get out of there. Turn the TV off, get out in the street or garden and pretend it doesn't matter.
The waves follow you, because the pretence fails to pass first muster. Specific moments frozen in time: the two first-half chances for Harry Kane, first when he opened his body up and then the follow-up against the post, the Jesse Lingard curler when he could have put his foot through it.
Specific moments that didn't even happen. The Kane header at the end of normal time that failed to make contact with his head. The final free-kick into the box at the death and the miracle it might have brought but couldn't.
They shouldn't matter, because they are all what-ifs. The internal reckoning fails to balance them up by the entries in the opposition column, by Ivan Perisic's shot hitting the post, by Jordan Pickford's save from Mandzukic five yards out. They shouldn't matter, because Croatia, after the first half-hour, were the better team. They had the outstanding player. They go on.
But those moments stick around, even when you think they're gone. No-one that saw them has forgotten Chris Waddle's shot that hit the inside of the post in 1990, or Paul Gascoigne's desperate stretch in 1996.
Alternative histories and alternative futures. It's the what-ifs that hurt. What if it really had been different this time? What if this had been another day in the month-long journey, rather than the end? What it might have been like had the whole crazy thing actually come off.
These are long nights to endure. Time stretches and compresses according to the balance of power in the contest. Scoring early should make it easier but it only means there is longer to wait.
The peculiar exhaustion of watching other people play football. Fed through the wringer, standing up, sitting down, pacing around. Looking out of the window at a deserted street and thinking, I could just go for a walk. I could be away from all this and free.
There is a lot of looking after others in the aftermath. Parents have to find words for inconsolable children when they remember their own parents trying to do the same for them and floundering. The future is used as the great balm for today's pain: this is a young team, they will be better for this, they will be stronger in two years and four years' time.
It's an easier line to throw than to bite on. All that promise in 1990 and the next World Cup rolled through without England even there. Euro '96 and penalties was followed by the 1998 World Cup and penalties, and 2006 and penalties and on and on and on.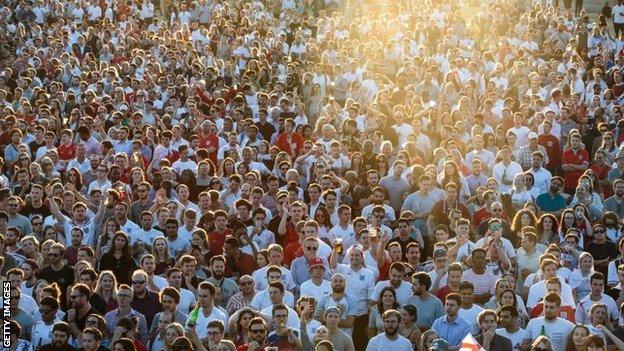 Sometimes tournaments open up in a way that others will not. Four years do not pass quickly. You travel so far to get to a World Cup semi-final that when you look back you can only see the hard yards.
When logic returns, so does a more reasonable calculation. So much hope and excitement has been invested in England's six games in this World Cup, and the return on that has been extraordinary.
Last-minute winners, first-half thumpings. The horror of penalties, the horrors banished. A game in the last eight that for long periods was as controlled and calm as a laboratory experiment.
A goalkeeper who had been relegated one season and then at a club that sacked two managers in a single season, transformed into a leaping, shouting, game-saving superstar. A central defender unwanted three years ago at a club sinking into the Championship looking indomitable in the air and even better on the deck. A captain who had never scored at a major tournament before finding the net more than any other player in the world.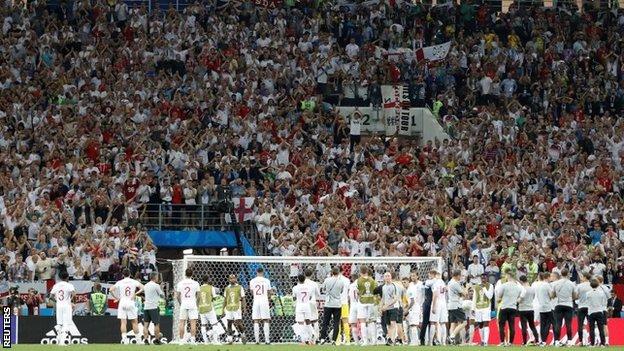 At the head of it all, a manager undergoing his own personal redemption, and in doing so saving the reputation of his position and that of those who wear the national shirt too. It is hard to create a team that finds success on the pitch but it is harder still to build one that draws such affection for its constituent characters.
And so it is over. Another generation is introduced to the distinctive pleasure and pain of supporting England. Those who remember a World Cup final win grow older still.
My ageing father is one of them. I had been looking forward to sharing his memories of 1966, when as a young man living in London he had bought a block of tickets for all the games at Wembley at a quite reasonable cost and without any great rush or competition.
So long has the wait now been that the July afternoon when England really did go all the way has taken on an almost mythical status. His own memories of being there when history was made are more amusingly prosaic: the squash getting into Wembley for the final, the traffic trying to get back to Whetstone afterwards.
Like a lot of dads around the country, he tried to cheer up his kids late on Wednesday. All five of us received the same text.
"You youngsters will have lots of chances to watch England in future World Cups. May you have the joy that I felt in 1966, sometime in the near future."
Something to make you smile and melancholic at exactly the same time. Just like England's World Cup adventure, just like another floodlit night of promise and pain.