Federico Fernandez: Swansea defender confirms Russian interest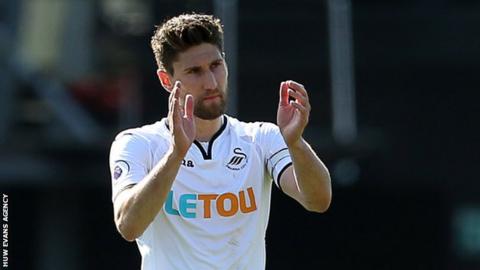 Swansea City defender Federico Fernandez has confirmed Russian Premier League club Krasnodar FC wants him.
The 29-year-old Argentine is mulling the move after Swansea's relegation from the Premier League.
He also says regaining a place in his country's international team is a factor in his thinking.
"I am looking for a different kind of option to maybe get the chance to get back into the Argentina squad," he said.
Fernandez joined Swansea from Napoli in 2014 for a fee in the region of £8m.
His current contract expires in 2020 and the club are likely to seek at least £6m for him.
But following their relegation to the Championship, the former Estudiantes centre back is already the subject of interest from elsewhere, including Krasnodar.
"They are a club who are very interested in me," said Fernandez.
"But I need to wait for other options as well. I think it is early and I need to wait a couple of weeks to see what happens."
Fernandez was one of 21 Swans players who featured in the 2-1 win over Yeovil as new manager Graham Potter made a winning start in his first pre-season game at the helm.
"Of course, I have a contract with Swansea. I am here working hard," he added. "But really I want to try, if a club is interested in me, to play at another level."
Former Getafe loan player Fernandez said he had been in amicable talks with Swans chairman Huw Jenkins over his situation.
"The chairman said I had worked very hard for the last four years for the club and so they do not put any problems to me," he said.
"We are waiting for the best solution for me and the club. If clubs come in we will analyse it together and decide."
Swansea 'rested and fresh'
Fernandez said it had been a tough summer for all those involved in relegation.
"It was an awful thing not only for us, but the club and the city. I think everyone is now rested, fresh of mind and have come back strong. This is football, we have to try again and again.
"With the young lads in the team I think this year they have more chances to play in the first team and try to have a good season."
International ambitions are heavily influencing Fernandez, who has been capped 32 times by Argentina.
Following Argentina's 4-3 elimination by France in the round of 16 stage at the 2018 finals in Russia, Fernandez believes there could be an opportunity to again play for his country.
"Next year is the Copa America. I am 29, I want to try one or two more years at a higher level and we will see if I get the chance to get back," he added.