From Camp Nou to Mourneview: Solskjaer ready for new Euro adventure
By Mark Sterling
BBC Sport NI
Last updated on .From the section Irish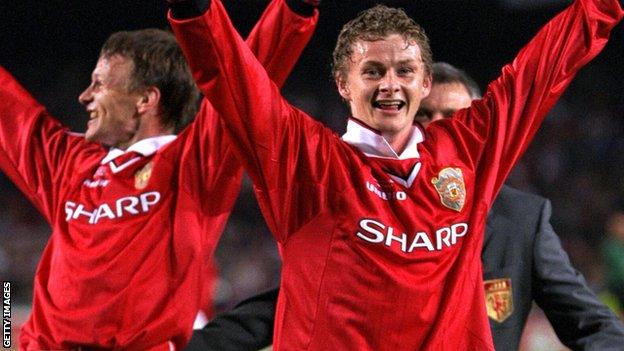 He's known the world over for scoring one of the Champions League's most famous winning goals, but on Wednesday Ole Gunnar Solskjaer faces a European challenge of an altogether different nature as a manager.
Nineteen years after scoring the injury-time goal that won the 1999 Champions League and secured a treble for Manchester United, the former Norwegian striker is set to lead his side into a Europa League first round qualifier.
With a capacity of just over 4,000, Mourneview Park in Lurgan is a far cry from Barcelona's Camp Nou, the venue for Solskjaer's historic winner against Bayern Munich.
But that is where Irish Premiership part-time side Glenavon will host Solskjaer's Molde FK as they begin their Europa League campaign.
For a man who also won six Premier League titles with United as a player, he could be forgiven for struggling to adjust to getting to grips with entering a competition at this level.
"No, not at all," he insisted as his team arrived at their Belfast hotel.
"It's more than two years now since we have played in Europe and it's great to be back.
"Even though it is just the first qualifying round, it's a big thing for the club and we are really looking forward to it.
"Anything can happen in the qualifiers, but if we reach the group stages we'll have had a good time."
Getting help with his homework
Having played for Sir Alex Ferguson, Solskjaer will be well aware of the importance of preparation.
And, while admitting to not knowing too much about his opponents, he did lean on his former United contacts for help.
"I had an ex-Man United scout watch their friendly against Coleraine (a 1-0 win)," Solskjaer explained.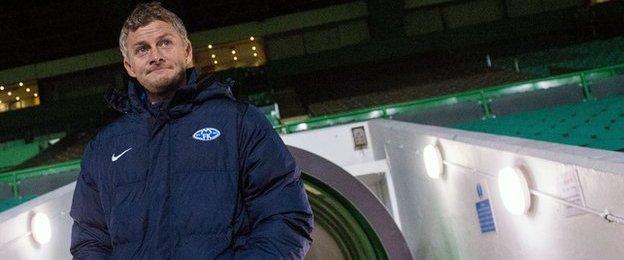 "And I had my own scout watch their friendly against Stranraer (also a 1-0 win) so I've got a couple of reports.
"You go in a little bit blind when you haven't seen them live yourself, but we have to trust ourselves and play our game."
Fond memories of Northern Ireland
While Mourneview Park will be a new experience for Solskjaer, the 45-year-old is no stranger to Northern Ireland.
"I've been here a few times and have some good memories of this place," he said.
One of those was his second cap for Norway - a 2-0 friendly win in March 1996.
"It was one of my first proper internationals so it was a big night for me," he remembered.
"I was playing against players I had watched in the Premier League which was fantastic.
"I also came here to launch the Milk Cup (now known as the Super Cup NI) which is a great tournament.
"I'm hoping to create another happy memory now I'm here again."
'That' goal and Sir Alex
It's nigh on impossible to speak to the man known as the 'Baby-faced Assassin' in his playing days and not ask about that 1999 goal.
He was happy to be reminded that the 20th anniversary is on the horizon, saying he would welcome a reunion.
"That was one of the best nights of my life, both professionally and privately," he said.
"Maybe we should try and get together for a reunion - I've also just had the 20th anniversary of Norway beating Brazil at the World Cup."
His managerial career may still be at a formative stage, but Solskjaer is in no doubt who his biggest influence has been.
"Everything I know about managing players, people and clubs, I've learnt from Sir Alex."
United again?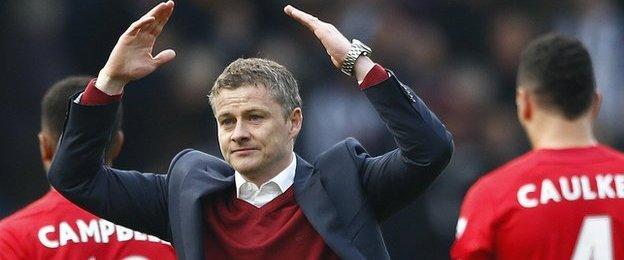 This is Solskjaer's second stint as Molde manager, with an unsuccessful spell in charge of Cardiff City while they were in the Premier League sandwiched in between.
Before that, he managed Manchester United's reserve team.
He would, of course, love to be United manager some day - but for now he enjoying his time at Molde.
"I'm so happy being back home and my family are too," he said.
"We are starting to gel into a proper team and it's great coming to work every day and trying to help the players.
"It's always the dream to coach at United, but I wouldn't say I'm dreaming about it.
"Mind you, I never dreamt about playing for United either - so you never know."
It's coming home
There is, as if anyone needed reminded, another big football match taking place in Europe on Wednesday evening.
England's World Cup semi-final against Croatia kicks off 45 minutes before Molde take on Glenavon - and Solskjaer plans to watch the first half on his phone.
And Norway's joint fifth top goalscorer has no qualms in nailing his colours to the English mast.
"Yes I want England to win," he said.
"My kids are English and they have their England kits on with Kane and Rashford on the back.
"I don't see them conceding goals and with Harry Kane they've always got a chance.
"Gareth Southgate has created such a strong mindset and there is a great bond amongst the players.
"He is pragmatic, relaxed and knows what he wants."
Solskjaer know what he wants, too.
First, a good start in the Europa League. Then check the phone to see if England have won.