Cristiano Ronaldo to Juventus: Is £99m signing a good deal for Italian champions?
Last updated on .From the section European Football317
Cristiano Ronaldo has completed his 112m euros (£99.2m) move from Real Madrid to Juventus after 450 goals in 438 games for the club.
But can that possibly be good value for a 33-year-old? And is he in decline? BBC Sport investigates.
If you are viewing this page on the BBC News app please click here to vote.
Where does the deal rank in all-time list?
Ronaldo's move to Juventus makes him the fourth most expensive player of all time (he is also the seventh for his 2009 move to Real from Manchester United) - third if you exclude Kylian Mbappe's expected 180m euros (£159m) move to Paris St-Germain.
It almost trebles the most expensive transfer fee ever for a player aged 30 or more. Leonardo Bonucci's reported 40m euros (£35.1m) move from Juventus to AC Milan last summer was the record.
Is Ronaldo in decline?
Not really. His 44 goals for Real Madrid last season was his third lowest total in nine years at the Bernabeu - but it was still exactly one goal per game. Including Portugal goals, 54 in total, it was his lowest scoring season for club and country since 2009-10. But he did manage 22 goals in his final 13 La Liga appearances...
He has won the past two Ballons d'Or for the world's top player - and four of the past five. He has also been named in the past 11 Fifa Fifpro World XI and Uefa Teams of the Year.
He has won the Champions League for three consecutive years - and has won the Golden Boot in that tournament in each of the past six seasons - including one season when he was joint top scorer - and also won it once 10 years ago with Manchester United.
Of his 15 goals last season, three were against Juventus including a sensational bicycle kick which earned him a standing ovation from the Juventus Stadium faithful.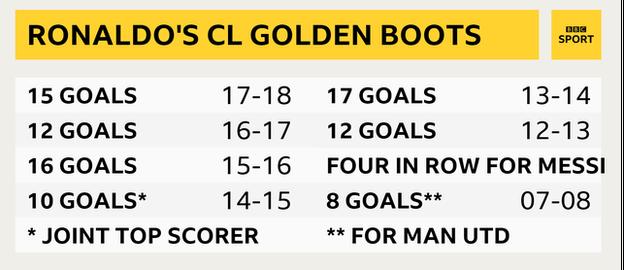 As well as winning the Champions League Golden Boot, Ronaldo also managed to finish second top scorer in La Liga - despite scoring only four times in the first half of the season. He hit 22 league goals from January onwards, despite not playing in seven games.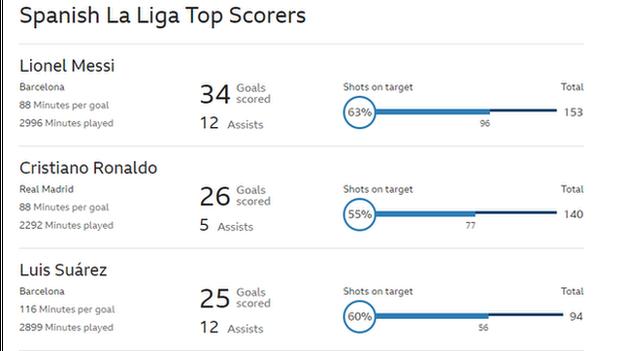 He is still the second top scorer at the ongoing World Cup, with four goals including a hat-trick against Spain, despite Portugal's last-16 elimination. Those goals made him the second top scorer in the history of international football with 85.
£99m for a 33-year-old - a sensible signing?
Interesting, the answer is yes according to a football financial expert.
Rob Wilson of Sheffield Hallam University says: "Even at about £100m the marketing leverage that Juventus will be able to create will be significant. Added to that the likelihood that he will strengthen the team, it seems plausible that they will be more successful domestically and qualify routinely for the Champions League. That means more sponsors, more TV money and more prize money."
He thinks the money Juventus, who have won seven consecutive league titles, earn from Ronaldo "should more than cover the transfer fee and his wages. It should also attract other players and help with the younger members of the squad".
"Winning the Champions League can be worth as much as 100m euros (£88.5m) and he will undoubtedly help achieve goals like that. The added exposure and marketing potential make it a sensible signing, despite his age. I'm sure, barring significant injury, he has many years left at the top table."
What about his fitness?
The 44 games he played last season were the fewest since his opening Real Madrid season.
But he only missed two games because of injury last term and was rested for several domestic games as Real, who were never in the title race, concentrated on the Champions League.
He no longer has the legs of the swashbuckling wide player he once was, reinventing himself as a centre forward. Of his 44 Real appearances last season, 31 of them were as a striker with 13 on the wing. Back in 2013-14 he made only one centre-forward appearance.
In May, Ronaldo said: "Right now I have a biological age of 23. I've still got a long time left, I can keep playing until I'm 41."
During the World Cup, his Portugal coach Fernando Santos said: "He is like a Port wine. He knows how to refine his capacity and age at his best.
"He is constantly evolving, contradictorily to the other players. He knows himself and he knows what he can do.
"What he does now is not what he did three or four years ago, and not what he will be doing in a few years from now."
And his international boss thinks he could play at the next World Cup at the age of 37.
He added: "Cristiano is the best in the world and I hope in Qatar once again he is going to score in a World Cup."
'A deal that makes sense for all parties'
Sam Boor, consultant in Deloitte's Sports Business Group, comments:
"This is a deal that appears to make financial sense for all parties involved. For Juventus, the arrival of Ronaldo would be expected to provide a spike in matchday and commercial revenues, with demand for season tickets and player-related merchandise both likely to increase.
"Crucially however, the club have secured an unquestionable talent who they will hope can spearhead on pitch performances.
"The club have won seven consecutive Serie A titles and consistently challenged in the UEFA Champions League, which has translated into strong financial performance. This transfer may help Juventus narrow the financial gap with the rest of the top 10 of the Deloitte Football Money League.
"For Real Madrid, the sale of Ronaldo to recoup more than the original transfer fee, almost a decade after signing him from Manchester United, appears good business - not only is this a testament to the talent in question, but also the ability of club's senior executives who have managed to get good value for what is the deal of the summer so far.
"With the World Cup drawing to a close this weekend it will be interesting to see how top European clubs respond in what could be a busy summer transfer window."