Gavin Whyte is among the players to sign 'enhanced' deals at Crusaders
Last updated on .From the section Irish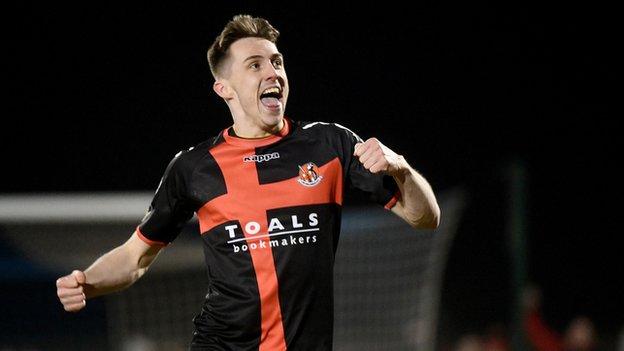 Gavin Whyte is one of several Crusaders players to have signed new contracts on the eve of their Champions League qualifier against Ludogorets.
Matthew Donnelly, Mark McChrystal and Jamie Glackin have also been given professional deals, while a further 18 players have agreed 'enhanced' terms.
Whyte, 22, was expected to leave Seaview after helping the club to regain the Irish Premiership title.
The winger had hoped to move to England and was linked with Leeds United.
The Belfast club have announced the 22 new deals as part of their move to a full-time set-up, which has also seen manager Stephen Baxter quit his day job and sign a five-year contract.
The Premiership champions plan to hold first-team training on Monday, Tuesday and Wednesday mornings this season, as well as their traditional Tuesday and Thursday night sessions.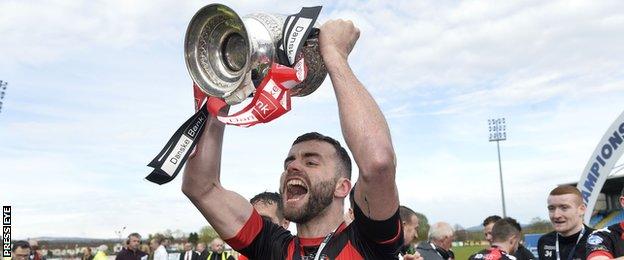 Whyte, Donnelly, McChrystal and Glackin have all been awarded professional contracts to match the club's ambitious plans.
The remaining 18 players have also agreed new contracts, which reflect the additional training sessions they will be required to take part in.
Club captain Colin Coates is one of six players to have signed a two-year contract extension, keeping him at Seaview until May 2020 at least.
A further 12 players have been given three-year extensions, including striker Jordan Owens, full-back Billy Joe Burns and goalkeeper Harry Doherty, who has recently joined from Carrick Rangers.