Croatia v England: How Gareth Southgate helped us fall in love with England
By Steve Crossman
BBC Radio 5 live England team reporter, Repino
Last updated on .From the section World Cup384
World Cup semi-final: Croatia v England
Venue:
Luzhniki Stadium, Moscow
Date:
Wednesday, 11 July (19:00 BST)
Coverage:
Full match commentary on BBC Radio 5 live, text commentary, report and highlights on BBC Sport app and online
If football is coming home, then England boss Gareth Southgate should be applauded for the role he has played.
In fact, he probably gave it a lift home even though it meant driving 10 miles out of his way.
The second of those sentences is taken from one of the excellent #GarethSouthgateWould tweets about this affable man who, with only three years' top-flight coaching experience, has achieved what Sven-Goran Eriksson, Fabio Capello, Steve McClaren and Roy Hodgson could not despite more than 80 between them.
He has not just guided England to a World Cup semi-final, but helped fans fall head over heels for his team too.
"They have suffered," defender Kyle Walker said on Monday.
"We've been trying to put smiles back on faces, and hopefully make everyone fall back in love with England."
And if it has been a long journey for the fans, the players also appear to have rediscovered their passion.
"Previously when we came to play for England, it was a national team, now it's like a club," added Walker.
"We used to go and train and then sit and stare at the same four walls. Now we're in all of each other's rooms. That would not have happened previously and it's all credit to the gaffer."
Reigniting that feeling of pride among players and supporters has not happened by accident - it is the result of a clear vision and a cool head.
Behind closed doors at the Football Association, Southgate embarked on a plan to give every department a clean slate.
When he took the job in 2016, he asked staff in all areas - from captain to communications officer - what approach they would take were they starting from scratch.
The answers he got underpinned a policy which has brought the team closer to the public than it has been at any time since Euro '96.
And appreciation levels have reached the stage where there was a bizarre Southgate lookalike in the stands as England defeated Sweden on Saturday.
Allowing the players to be themselves
Over the past few weeks I have asked Southgate about jogging, fashion and his failure to listen to a single episode of the 5 live World Cup Daily podcast.
He has smiled politely and answered honestly through the sort of questions it would not have been possible to ask his predecessors. He even had half a chuckle when I mentioned Euro '96.
After that question, I vowed not to ask him about penalties again.
"I will believe it when I see it," he smiled.
Southgate has also been able to persuade his players to open up around microphones, cameras and notepads.
The candour has been such that defender Danny Rose felt able to talk about the way Southgate reacted to his revelation about his struggles with depression.
"We went for a walk around the grounds in the hotel in Leeds before the Costa Rica warm-up game," said Rose.
"He was great. We spent 10 minutes just walking and he had some nice words to say to me."
That insight is priceless, because those who have depression can empathise, and those who do not can sympathise.
"The greatest thing of all is Southgate has got the players to talk about themselves, which has helped us to like them as people," said Michael Caulfield, who was Southgate's sports psychologist when he was manager at Middlesbrough, on BBC Radio 5 live.
"We now know what they are and what they stand for. They are just like us, but better at football."
A tough leader - but very nice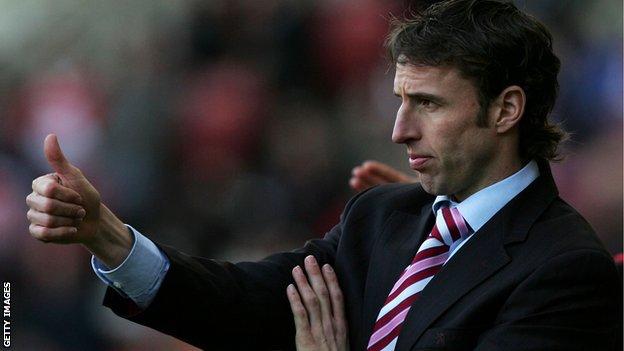 Southgate is a really nice guy, there's no getting away from it.
On my first day as a young intern at Middlesbrough in 2008, he introduced himself and told me I was welcome to join in a fortnightly football match he organised for Friday evenings before home matches.
It instantly made me feel involved and important.
I was told (not directly by Southgate) that if I saw anyone I didn't recognise, I should introduce myself and ask them how they are and whether I could help them with anything.
The players were given the same message, and that inclusive and welcoming atmosphere remains to this day.
Rose said a couple of weeks ago, with tongue firmly in cheek, that sometimes Southgate is "too nice".
He was joking, but before the World Cup that was seen as something that could hold him back.
"There have been some lazy opinions written about Gareth - it was absurd to say he was too nice to be a leader," says Caulfield.
"To be a leader, sometimes you have to have basic kindness, and he cares about people. He remains a fierce competitor and we should not see mistake his calmness for a lack of passion."
Anyone who saw his roar to fans after the win over Colombia, or his conducting of supporters singing his name post-Sweden, will know that.
And it is not as if he needs to mix some sort of blood-and-thunder approach with his friendly demeanour. He has assistant Steve Holland for that.
As midfielder Ruben Loftus-Cheek joked when I asked him about the louder and more intense half of the coaching partnership: "Good cop, bad cop is probably fair."
Giving us a team to be proud of
Southgate said recently that "we've started to connect the team with the public again".
Too true.
Only last year fans were throwing paper aeroplanes on to the pitch at Wembley, and booing the coach after a match in Malta.
But this England team, the third-youngest squad of the 32 in Russia, has played with verve and fearlessness.
The players returning from the dressing room to pose for photographs with fans after their knockout wins has fostered that sense of unity.
Southgate has always believed in youth. His Boro side relegated from the Premier League in 2009 had a very youthful look about it, and more than once he put faith in the academy ahead of his chairman's chequebook.
And he brought a team to Russia that did not carry the scars of previous England squads.
On arrival, the team had 465 caps between them - the least of any team at the tournament. By the quarter-finals they averaged 24 caps per player. Belgium averaged 50.
Southgate picked a squad that should get better over time. But, now they have reached the last four, he has not shied away from the opportunity in front of them.
Asked by BBC sports editor Dan Roan whether he should acknowledge the team are contenders here and now, Southgate said: "We may not get this chance again."
That honesty is another reason people have fallen in love with Southgate and his England team.