Raheem Sterling: What are critics not seeing in England forward's World Cup performances?
Last updated on .From the section World Cup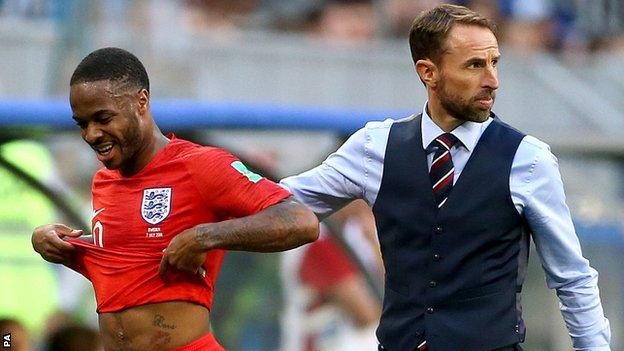 Croatia v England
Date:
Wednesday, 11 July (19:00 BST)
Venue:
Luzhniki Stadium, Moscow
Coverage:
Listen live on 5 live, with live text commentary online
No England player has divided opinion at this World Cup more than Raheem Sterling.
A wasteful forward? Or a constant menace to defenders with a boundless appetite for hard work?
Sterling gave ammunition to both his detractors and backers with his display in Saturday's 2-0 quarter-final win over Sweden, as England set up a semi-final with Croatia on Wednesday.
Your ratings of Sterling, who is yet to score in Russia and last scored for England in October 2015, suggest he has not impressed the public. But former players have praised the impact of the Manchester City player.
So who is right - and what could the Sterling critics be missing?
What do you say?
You've used our Player Rater tool to have your say on the performances of every player at the World Cup, and Sterling comes out bottom of the pile in Gareth Southgate's team.
The Sterling detractors will point towards the forward's return of no goals from seven efforts and a shot accuracy of 14% to back up their ratings.
The 23-year-old has an average of 4.80 out of 10 from the three games he has played, the lowest of any player to start more than one game for England in Russia.
In the opening 2-1 victory over Tunisia he scored 4.11 - the lowest match rating of any England player to date.

In the 6-1 hammering of Panama he scored 5.30.

In the penalty shootout victory over Colombia he scored 4.56.

In the 2-0 win against Sweden he scored 5.23.
Harry Kane, who has scored six goals so far, is England's highest rated player with an average of 7.42, while Kieran Trippier is just behind on 7.38.
Almost 200,000 of you took the time to give Sterling a rating during the World Cup, making him the fifth most rated player in the tournament.
Of those ratings, 28.2% awarded Sterling a mark of three or less.
Is Sterling wasteful?
As you would expect, Sterling's figures in front of goal in Russia do not make pretty reading.
Seven shots - four blocked, one saved and no goals.
Unsurprisingly, World Cup top scorer Harry Kane fares very well with six goals from 10 shots, although three of those strikes were from the penalty spot.
Jermaine Jenas, the ex-England and Tottenham midfielder, believes Sterling's lack of goals could open the door for Marcus Rashford, who has played 132 minutes in Russia compared to Sterling's 353 minutes.
"It is a slight worry. It's the one part of the machine that is not quite clicking as much as I'd like it to," he told the 5 live World Cup Daily podcast.
"Would we be better if that was Rashford making those runs? Would he be more clinical? What if Dele Alli plays higher up the pitch towards Harry Kane and we bring Fabian Delph into midfield?"
But is it fairer to compare Sterling, who scored 23 goals for Premier League winners Manchester City last season, to players who are not as prolific as the England captain?
Jesse Lingard, who has featured in a deeper midfield role, has outranked Sterling in our Player Rater with 6.72.
But the other numbers are very similar. Lingard has one goal from 12 shots and a shot accuracy the same as Sterling's with 14%.
Surely most of Lingard's efforts have come from outside the box, though?
No. Lingard has had six efforts in the penalty area to Sterling's four, showing that the Manchester United man has been finding himself in positive positions.
And former England and Newcastle striker Alan Shearer praised Sterling's persistence against Sweden.
"It was pleasing that he never stopped getting in there," he said on Match of the Day. "He wasn't running away from the ball. He wanted to get in there and wanted to score and everyone was willing him on."
A statistic that reflects Sterling's ability to get into dangerous positions, but perhaps emphasises his profligacy, is his joint-highest 19 touches in the opposition penalty area.
Does he give the ball away?
Sterling has often come deep to receive passes from his team-mates and then attempted to carry the ball forward, with some spectators frustrated when it ends with possession being lost.
But Sterling is some way short of being England's biggest culprit.
Sterling has turned over possession 38 times - the eighth highest for England - with Trippier leading the way on 70.
"He links very intelligently," said former England and Arsenal defender Martin Keown on the the 5 live Wold Cup Daily podcast.
"He comes to receive the ball. I don't think Rashford is quite ready to take the reins. Sterling has become a team player and he doesn't quite have the ability in the final third where we need it.
"But he understands his role in the team well and has the trust of the manager."
What else does Sterling offer?
Against Sweden, Sterling showed a willingness to run behind the opponent's defence, resulting in two squandered chances - although on the first occasion he was offside. The second was kept out by a save from the keeper followed by a block by a defender.
"This is why he's in the team. There are people who will be frustrated with his end product in terms of scoring goals but he's being a threat," said former England and Manchester United defender Rio Ferdinand on Match of the Day.
"He's got to become a bit more clinical but he put the Swedish team on the back foot.
"He puts in a shift like not many others on the planet by going in behind and turning and facing defenders and putting them on the back foot."
So does Sterling cover more ground than his team-mates?
Not overall, no. Sterling has covered 35.70km at the World Cup, the ninth highest in the England squad and more than 10km short of top runner Lingard.
But it's in the short sprints where Sterling has impressed. He is second on the number of sprints made, with 159. And he is second for distance covered running faster than 20 km/h (12.42 mph) with 3.71km (again, Lingard leads the way in both of these areas).
Add to that Sterling's four dribbles during the Sweden game, more than any other England player, something former Germany striker and coach Jurgen Klinsmann pinpointed as a weapon against defensive opponents.
"He's a bit unpredictable. Maybe even for himself. But he has a nose for expecting the ball in certain areas. He's somebody who keeps the opponent nervous," he said.
"You need one-on-one players, even more today when you can come up against a block of eight or nine players and you need someone to take them on."