Joe Hart turns out for Shrewsbury Cricket Club during England's World Cup game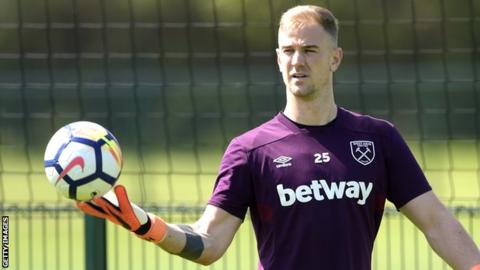 While Jordan Pickford was picking up a man-of-the-match award for his performance in England's World Cup quarter-final against Sweden, the man who he replaced as England's undisputed number one - Joe Hart - was turning out for his hometown cricket club, Shrewsbury.
The 31-year-old had been England's number one at the past three major tournaments but was left out of Gareth Southgate's 23-man squad for Russia.
And while Hart said his omission was "hard to take", he took the opportunity to switch sports and play for Shrewsbury - his boyhood cricket team - for the first time since 2007.
Shrewsbury won the Birmingham League Premier Division match against Knowle and Dorridge after posting 250-8.
Batting at number nine, Hart scored six runs and took a catch as the visitors finished short on 203-9.
"Joe was a credit to himself, his cricket club and his community yesterday," tweeted Knowle bowler Chris Cheslin. "Great to see him back on the cricket field enjoying the game surrounded by his friends and family."
Hart could have played cricket professionally, having been in the same Worcestershire youth team as former England wicketkeeper Steven Davies at the age of 16, before he chose to concentrate on his blossoming football career at Shrewsbury Town.
Hart has returned to training at Manchester City after spending last season on loan at West Ham.