World Cup 2018: 'Russia dream over but nation's hope restored'
By Patrick Jennings
BBC Sport in Sochi
Last updated on .From the section World Cup270
It has been a wonderful ride, but the remarkable World Cup run that set millions of people dreaming across Russia's 11 time zones is finally over.
There will always be the memories, and if it had to end at all then at least there was one final glorious moment that no Russian fan present in Sochi on Saturday will forget for the rest of their lives.
Perhaps the giddiest point of the host nation's trip into the quarter-finals came here, when defeat was still not an option and Mario Fernandes headed an equaliser against Croatia in the 115th minute.
The atmosphere in the ground had been electric all evening, every move up the pitch gaining volume as the match went on before reaching spectacular noise levels with Denis Cheryshev's sublime opener.
That goal, and Fernandes' dramatic extra-time leveller, counted for nothing but the memories in the end - as Croatia went through 4-3 winners on spot-kicks.
It was a cruel way to end it all, but in the wake of defeat it has to be remembered that these were thrilling moments nobody here had expected to experience.
The last time Russia - as part of the Soviet Union team - appeared in the last eight of the World Cup was 1970, and before the match two enormous banners appeared in the crowd.
They read: "If not you, who? If not now, when?"
At 21:00 local time, in a stadium facing the sun setting on a blue Black Sea, Russia were two victories from a chance to aim for the biggest prize in world football.
Such prospects were simply unthinkable before the tournament.
Russia had failed to win in seven friendlies. There was talk of them becoming only the second host nation in World Cup history to fail to reach the knockout stage.
But then this incredible dream of a journey began with that 5-0 victory over Saudia Arabia on the opening night of 14 June.
The TV commentators were screaming - "Five! Five! Five! Five! Five!" - as the camera cut to manager Stanislav Cherchesov's mischievous moustachioed smile. Perhaps he always knew?
llya Zubko, a journalist who covers the national team for Rossiskaya Gazeta, did believe at least. "I've been around the side for a long time and always felt it did have qualities that perhaps had not been showed," he says.
"But Russia is a country whose football supporters tend to veer between extremes. Everything is either very, very good, or absolutely terrible. So of course nobody was expecting such a brilliant opening result."
Despite the huge win, there wasn't anybody among the fans I spoke to in that first week who was settling in for the long haul.
In a country where ice hockey rivals football strongly in popularity, many still refused to accept it was anything more than a one-off. Some would only begrudgingly concede they might watch the next one against Egypt.
I kept telling people: "You're at home - that changes everything." And when it did, again, eventually people began to agree. Egypt were swept away too, in a 3-1 win that meant a place in the last 16 was safe.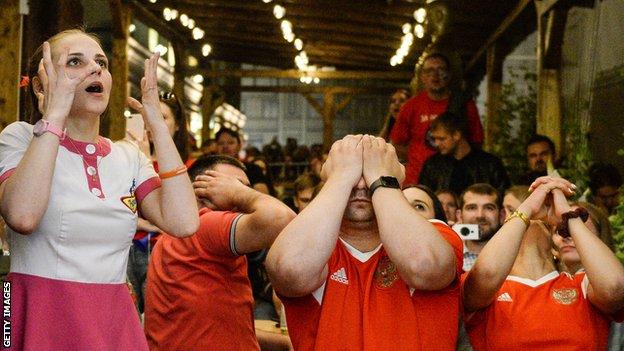 But first there was the issue of who would finish top. Russia's final Group A game against Uruguay would settle that. The result sent people's expectations plummeting downwards once more.
On the bus back from the Samara Arena after Russia lost 3-0, fans got on chanting: "We're Russia and we're doomed." There were those extremes again.
What seemed to be worse than defeat was the fact a knockout game with Spain now awaited.
But this is the land of the hero goalkeeper, and in the city where Lev Yashin built his unmatched reputation, the national team's 2018 number one, Igor Akinfeev, saved two penalties to send Russia through - into the quarter-finals.
Now we really were in territory unknown. I was back in Samara that evening, watching the match on TV but a witness to the incredible scenes of joy that burst out into spontaneous mass celebrations on the city's streets.
It was a magical night - you felt the whole country, a nation of 144 million people, was united in smiles.
Then came the rest days. TV montages showing Akinfeev's save again and again and again. "Before the tournament nobody believed, now they were all heroes," Zubko says.
President Vladimir Putin called Cherchesov to say well done. "Just an extra boost for us," the manager said on Friday.
I noticed parallels with England at Euro 96. Russian fans were even starting to play the song It's Coming Home.
Denis Kazansky, commentator for Match TV, compared the growing mood to "what happened at the European Championship of 2008, when the whole country celebrated the miracle in Basel, an extra-time victory over Netherlands that sent us through to the semi-finals".
Then he added: "Except the reaction to beating Spain in Moscow was even bigger. People even named their kids after the players, and Cherchesov was now more than a coach. He became 'The Mentor'.
"From the first day we had not been expecting much from our team. Then thoughts turned to winning the thing.
"What we have seen is a significant change in people's attitudes, and in the history of Russian football."
There were two chapters of Russian football that definitively closed in the wake of Saturday's loss as 38-year-old defender Sergei Ignashevich announced his retirement and 33-year-old winger Aleksandr Samedov ended his time with the national team.
For Zubko, the development of Russian football from here depends at least in some part on the future of its younger stars, like 22-year-old CSKA Moscow midfielder Aleksandr Golovin.
"After the Euros of 2008, Andrei Arshavin and Roman Pavlyuchenko moved to Arsenal and Tottenham respectively," he says.
"Now we will see if any of this squad make a similar move to leagues of a higher standard than the Russia's, like in Spain, Germany or England."
He adds: "But also the team needs continued support to sustain its success.
"After the success of Euro 2008, when the team didn't qualify for the World Cup in 2010 attitudes changed very quickly.
"Let's hope that now if they for whatever reason struggle to reach the next European Championship in 2020 that the same thing doesn't happen again."
As the dust begins to settle and people begin to look back on these famous past four weeks, there will be time to think about the points raised above. Although there won't be an awful lot of it - the Russian domestic season starts again in July.
But there is one more scheduled stop for the national team on Sunday. When they return to Moscow, they will visit the fan zone close to the Luzhniki Stadium.
They would have played there next had they beaten Croatia, in a semi-final against England on Wednesday.
Instead it is a final chance to say thank you to the fans, and goodbye to a very special time indeed.