World Cup 2018: Sven-Goran Eriksson says England are benefitting from playing without "enormous pressure"
Last updated on .From the section World Cup
England v Sweden
Date:
Saturday, 7 July (15:00 BST).
Venue:
Samara Arena, Samara.
Coverage:
Watch the game live on BBC One, the BBC Sport website and app. Listen live on 5 live, with live text commentary online.
England are benefiting from playing without "enormous pressure" and can go all the way and win the World Cup if they beat Sweden in Saturday's quarter-final, says Sven-Goran Eriksson.
Swede Eriksson guided England to successive World Cup quarter-finals in 2002 and 2006 before resigning.
"Before my time, during my time and a little bit after my time, it was like you had to reach the final," Eriksson told BBC Sport.
"That has changed."
Eriksson also took England to the quarter-finals of Euro 2004 but was criticised after his 67-match reign ended in defeat by Portugal at the 2006 World Cup in Germany.
The former Manchester City boss, who managed Ivory Coast at the 2010 World Cup, said the lack of pressure on England in Russia is helping Gareth Southgate's side.
"That's good for the team because you can go out and play more relaxed," he added.
"England are a good team, a young team and a hungry team. I think England and the fans are happy now because they are in the quarter-finals."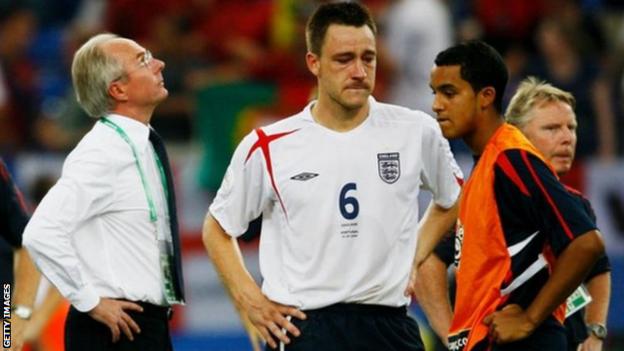 'England can go all the way'
Southgate's team have beaten Tunisia, Panama and Colombia to reach the quarter-finals for the first time since Eriksson was boss.
If they beat Sweden in Samara, they will be in the semi-finals for the first time since 1990.
Can England go all the way?
"I think the chance is very big," said Eriksson. "Also, England today have pace. So if they can defend very well they will be very good with counter-attacks and they can beat more or less anyone that way.
"[If England beat Sweden] then you have to meet Russia or Croatia. It is difficult but it's possible."
'Kane can finish with Golden Boot'
Harry Kane has scored six goals at the tournament - two more than any other player before the start of the quarter-finals.
Colombia's James Rodriguez won it in 2014 with six goals while the last England player to finish leading scorer at the World Cup was Gary Lineker in 1986 - also with six.
"The striker Kane can be the top scorer at this World Cup," added Eriksson. " I am quite sure about that.
"He's dangerous on set-pieces and in the box he is incredible. I'm impressed with that."
'Sweden's work-rate one of the best in world'
Sweden, finalists in 1958, are competing in their first quarter-final since 1994.
"Sweden have surprised everyone but you shouldn't be surprised because they qualified well," said Eriksson.
"They played twice against Italy and for 180 minutes Italy could not score a goal against them.
"We don't have Zlatan Ibrahimovic anymore, we don't have Messi and we don't have a Ronaldo, we don't have Neymar and we don't have Raheem Sterling.
"But getting those Swedish players together, the team work is incredible and one of the best in the world.
"We Swedes are very proud to see Sweden in the quarter-finals. That doesn't happen every World Cup."
'Calm Southgate doing a great job'
Eriksson said he had been impressed with the job Southgate was doing with England, describing him as "elegant" and a "calm" presence.
"He seems to be in total control of everything - the results are there," he said.
Asked what Southgate might say in his team-talk before the Sweden match, Eriksson added: "Not in the team-talk, but probably two or three days before he will perhaps remind the players 'hey, Sweden are not Brazil but Sweden are difficult to play against'."
And finally Sven, who do you want to win?
Eriksson was England boss between 2001 and 2006 but will be supporting Sweden on Saturday.
"I hope Sweden win of course," he said. "But a bit of my heart is in England as well so it's a difficult one.
"Who is going to win the game? I hope Sweden but it is going to be very tight - 50-50. It will be something special that decides it - a mistake by someone, a free-kick, a corner, a penalty. Something like that."