Real Kashmir: David Robertson recruits son Mason for India's I-League
Last updated on .From the section Scottish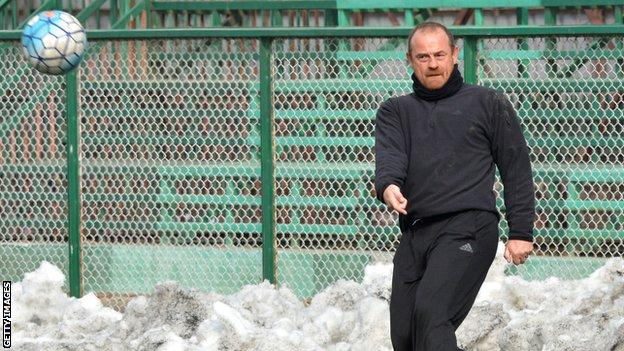 Picture the scene: you leave a life coaching in the United States to take up a new role in Kashmir; guide your club to promotion and then persuade your son to join you.
That's what David Robertson has done, taking the first team from troubled Kashmir into India's I-League - and his son, Mason, is on board for next season.
The 23-year-old midfielder is quitting Peterhead for a full-time contract in a country he has never set foot in.
It was the same for his father in January 2017, when the former Aberdeen and Rangers left-back joined Real Kashmir and the 49-year-old admits it was quite a culture shock after a comfortable life coaching in the United States.
"It was a brand new club, a clean slate, so I just decided to have a go at it," he told BBC Scotland.
"I had done no homework at all. Kashmir is known as a war zone and it was a little intimidating seeing all the police with guns. It took me a couple of weeks to settle in but I'm glad I stuck it out."
The Srinagar-based club were formed in 2016 to help bring together a community devastated by flooding.
'Football is the main sport in Kashmir'
In May, Robertson's team secured promotion to the top flight, which is distinct from the Indian Soccer League.
"The night before we played our last game of the season, the owner came in and said 'two years ago this club was just an idea and now we're 90 minutes away from the top league in India'," explained Robertson, who won three caps for Scotland.
"After the first three or four games I thought 'we've got a chance of winning this'. Now I've come back to Scotland and left the owner with all these problems about how he's going to finance and get through this league.
"The stadium holds 15,000 and it was packed for home games. The rest of India is cricket, but football is the main sport in Kashmir.
"Now there are huge clubs like East Bengal and Churchill Brothers that will be coming to play us in Srinagar and that means so much for the state.
"It's taken a long time for the area to get back on its feet. There's no movies, no coffee shops, a curfew at 10 o'clock, so there's not a lot to do.
"There are a lot of challenges. Winters are harsh, we have power cuts three times a day, but I'm an easy going person, so you just need to find a way to get over the barriers.
"There's only ever been two professionals from Kashmir to have played in the big leagues and the population of the area is eight million. This gives everybody a bit of hope.
"We just need to make sure that when we go into this league we are there to stay because it's taken a lot of hard work to get promoted."
'A great experience'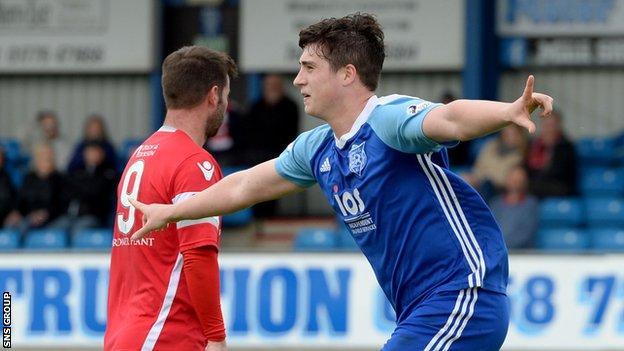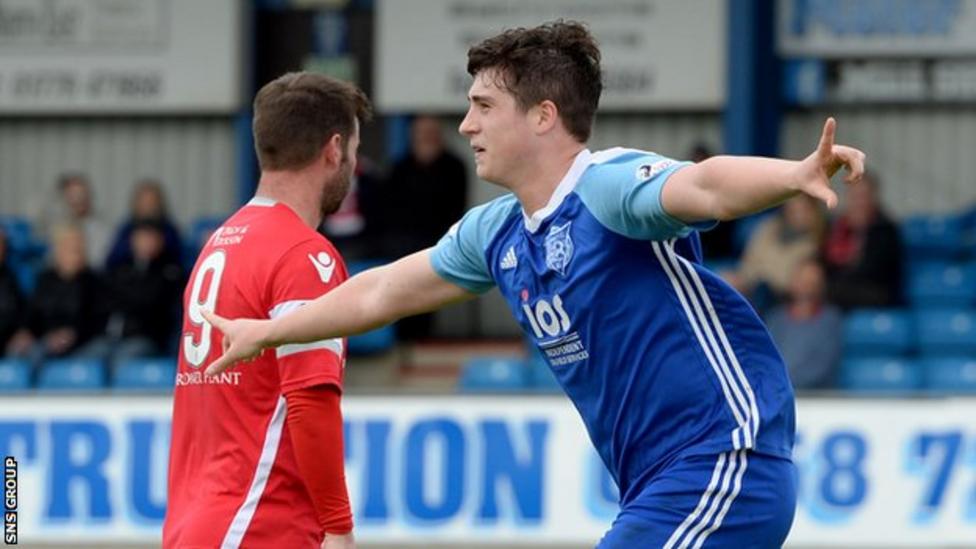 Mason, who had a spell with Stenhousemuir before spending last season at Balmoor, has played for his dad before.
"I think he's good enough for the Scottish Premiership but I've managed to jump in first and take him," said his father, who managed at Elgin City and Montrose before moving to the USA a decade ago.
"I coached him for six years in the States, so I know what I'm getting on and off the pitch.
"I gave the owner a list of players and left him to the negotiations. It's not easy being away from home and family but it's a great experience."
Mason concedes it was a wrench to leave Peterhead after missing out on promotion to League One in the play-offs.
"It wasn't easy for me," he said. "I would have been happy to stay but this is chance to go full-time and I'll just see where it takes me.
"He's told me a lot of stories about the guys, everyone is nice. There's not much to do there but I'm looking forward to that, just hanging out with the Big Man [Dad]."