Huw Jenkins to remain as Swansea City chairman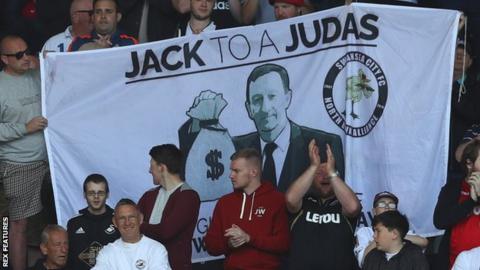 Swansea City have confirmed that Huw Jenkins will remain as chairman.
The club were relegated last season after seven years in the Premier League with the Supporters' Trust and some fans calling for Jenkins to step down.
But chief operating officer Chris Pearlman said Jenkins would continue in post with the blessing of owners Jason Levien and Steve Kaplan.
"They still have a lot of faith in him, and him helping shape how the club looks moving forward," Pearlman said.
"Jason and Steve like Huw a lot and I am sure they have said before that the way he ran the club was a big factor in them wanting to be involved in Swansea."
Jenkins has been criticised by some Swansea supporters since the takeover of the club in 2016 by American pair Levien and Kaplan, with the calls for him to step down intensifying since the club's relegation to the Championship.
The 55-year-old was appointed chairman in January 2002 and oversaw a huge reversal in fortunes, going from a club that almost dropped out of the Football League into one capable of rising up the divisions to win Premier League promotion.
With their return to the Championship, Swansea have begun rebuilding with the appointment of Graham Potter as the new manager, plus an overhaul of the club's recruitment structure.
Pearlman confirmed that Potter will have the final say on transfers along with his former Ostersunds FK assistant Kyle Macaulay, who has replaced Dave Leadbeater as head of recruitment. The scouting structure has also seen a large turnover of staff.
"Huw played an important part of bringing Graham, Kyle and the staff in and he has helped put the architecture together for how we move forward," Pearlman added.
"In terms of recruitment he has helped put that structure in place that has Graham and Kyle at the forefront and leading it."
It had been thought Swansea were seeking to appoint a new technical director role this summer, however that move now looks unlikely following the change of structure.
Pearlman, who was speaking at a supporters forum, also confirmed the club would press ahead with plans for a "reasonably sized" expansion of the 21,000-seater Liberty Stadium, but would not commit to the work unless the club returns to the top flight.
"The good news is we can likely do a reasonable size expansion for not a lot of money, but there is a lot of work that needs to be done before you push play," Pearlman said.
"But we will not be doing an expansion while we are in the Championship."
Swansea took over the lease and control of the stadium from Swansea Council last season, allowing the club to assess both a possible expansion and new naming rights deal.