Parma striker Emanuele Calaio accused of match-fixing by messaging opposition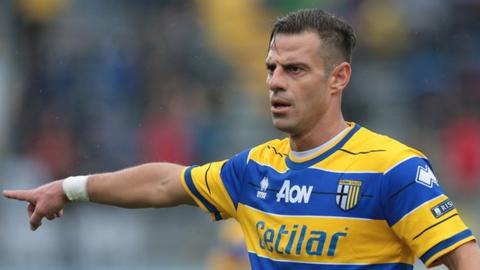 Parma striker Emanuele Calaio has been charged with match-fixing as the club won promotion to Serie A last season.
The 36-year-old is alleged to have sent messages to Spezia players Filippo De Col and Claudio Terzi before their match on 18 May, which Parma won 2-0 to secure promotion from Serie B.
Calaio is accused of attempting to influence the game by "eliciting a reduced effort" from De Col and Terzi.
The case has been passed by the Italian FA to the Federal National Court.
Calaio sent the messages to De Col, who he previously played with at Spezia, via messaging service WhatsApp, the Italian Football Federation said in a statement.
Parma, who has previously denied the claims, have also been referred to the court due to their "liability" for the player.
It is understood that Parma will argue that the messages from Calaio were meant to be a joke.
"We can't really believe how the message's text and content can set off such a serious situation," Parma said. "Parma Calcio 1913 asks the truth to be established as quickly as possible, out of respect for the club and its supporters."
The case will be heard in Rome on 17 July.
Parma were relegated to Serie D after being declared bankrupt in 2015, but will return to Italy's top flight after three back-to-back promotions.