Loris Karius: Liverpool keeper influenced by Champions League final concussion - Jurgen Klopp
Last updated on .From the section Liverpool695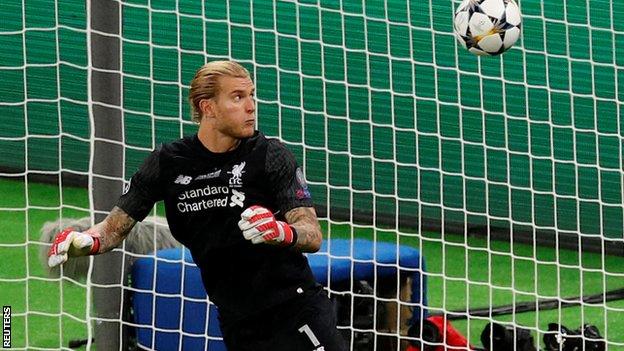 Liverpool keeper Loris Karius was "100%" affected by a concussion in their Champions League final loss to Real Madrid, says manager Jurgen Klopp.
Errors by Karius, 25, led to the Spanish side's first and third goals in their 3-1 victory in Kiev in May.
Karius collided with Sergio Ramos with the score goalless, and five days later was discovered to have "26 of 30 markers for a concussion" in tests.
"We don't use it as an excuse, we use it as an explanation," said Klopp.
"For me, it is 100% the explanation [for his performance]. He was influenced by that knock - that is 100%."
In the days following the final, Karius told fans he was "infinitely sorry" for his performance and he later received death threats, prompting a police investigation.
A week later doctors confirmed he had suffered a concussion during the game but Klopp has not spoken about the injury until now.
"If you ask Loris, he says he didn't think about it and didn't use it for a second as an excuse," added Klopp, whose will take a squad including Karius to face Chester City in a pre-season friendly on Saturday.
"From this point of view, from my side everything is fine. We don't think about that any more and we start completely new."
Beckenbauer input - 'We have to check'
Klopp explained that former Germany captain and manager Franz Beckenbauer told him that a highly-respected German doctor believed Karius had suffered the concussion during the defeat in Kiev.
The former Borussia Dortmund boss admitted the prospect had not crossed his mind but felt compelled to investigate following his friend's input.
Klopp added: "I got all the pictures from different perspectives, saw it and thought 'how can we all think that the boy who didn't show any weakness in that game until then made these big mistakes in a very important game and nobody thinks it's because of the knock he got?'
"How can we think that? That was, for me, the explanation and I thought: 'OK, come on, we need to check that.'
"I thought it was too late, you cannot check that. But now I know a concussion isn't coming and going in a day - if you have one, you see it days later. Five days after the final, Loris had 26 of 30 markers for a concussion still. That's clear."