Cardiff City owner Vincent Tan converts £66.4m more of club debt into equity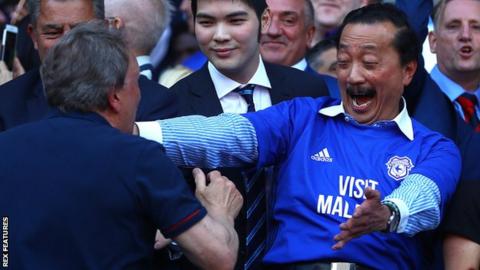 Cardiff City owner Vincent Tan has converted a further £66.4m the club owes him into equity.
The Malaysian businessman has been reducing the loans owed by the Premier League club and has previously said he aims to have it debt-free by 2021.
Tan subscribed for more than 664 million ordinary shares at 10p.
"We would once again like to thank Tan Sri Vincent Tan for his generosity," said Ken Choo, the Cardiff City chief executive and executive director.
"Following our recent successes on the pitch, we are extremely pleased that these continue to be mirrored by financial stability off it.
"As fans, staff and players alike eagerly await the upcoming 2018-19 Premier League campaign, we also look forward to the continuation of this ongoing process."
Cardiff's debt was £174m at the end of the 2013-14 financial year after their previous season in the Premier League - most of it owed to major shareholder Tan.
Tan converted £68m he was owed into equity while writing off another £10m in February 2016, converting a further £8m the following November and another £12.6m in June 2017.
The 66-year-old said he wrote off £13m in 2015, turned £3m into equity and in February 2016 settled a £5m debt with creditor Langston, owned by former Cardiff owner and current life president Sam Hammam.
However, under the terms of that settlement another £2m is now due to Langston as a result of Cardiff returning to the Premier League.
Cardiff City Supporters' Trust chair Keith Morgan said: "This is a major boost to the club's balance sheet position and is a further great example of Vincent Tan's continued commitment to the club."