World Cup 2018: Scotsman Allan Russell helps drive England's progress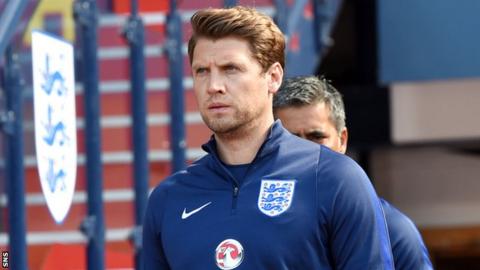 As Eric Dier slammed his penalty into the Colombian net, ensuring England's passage to the World Cup quarter-finals and a first World Cup shootout victory, a Scotsman on the touchline was among the most jubilant of revellers.
Allan Russell's playing career was sound, if unremarkable - a much-travelled striker who plied his trade as far and wide as Paisley, Mansfield and Los Angeles.
Now the 37-year-old Glaswegian has become one of football's first specialist forwards coaches, and an invaluable member of Gareth Southgate's staff.
Russell has been credited with England's prowess from the spot - they have missed only one of nine penalties in the competition, including Tuesday's shootout - as well as helping develop the inventive set-piece routines that have yielded goals and penalties.
Here, BBC Scotland charts the rise of the former Hamilton, St Mirren and Kilmarnock striker as he helps propel England's bid for World Cup glory.
How did Russell become a striker coach?
Russell's former team-mate, friend and fellow ex-striker Tam McManus believes his compatriot identified a gap in the football coaching market while playing in the United States.
Russell, 37, spent the final few years of his career in the US, first with Carolina Railhawks in North Carolina, and then Orange County Blues in Los Angeles.
Ex-Hibernian forward McManus says Russell noted the influence of specialist coaches in American football, and considered how they might be employed to great effect in his own sport.
"When he went to America, I think he saw some of the American football teams had special coaches - offence, defence, kicker, quarterback, running back - all these different departments in the teams had specific coaching," McManus says.
"Allan looked at that and thought he could bring it into striking play. There's a goalkeeping coach at every club in the world. It's never been common in Britain to have a striker coach and Allan's brought that into the culture here. He's started it and I think a lot of clubs will follow.
"Allan's started it off from nothing, he started working with kids, built his own company up and he's now coaching at the very, very highest level with England."
So what does Russell do?
"You [normally] get 10 minutes shooting at the end of a training session where the coach drops the ball down to you 10 yards from goal and you shoot," McManus explains.
"With Allan, it's movement, it's backing into defenders, it's different angles of shooting, getting across defenders, getting to the back post - it's all game-specific stuff.
"Allan's taken it to another level and I think you'll see a lot more clubs looking for striker coaches because it's obviously working very well for England.
"Especially now they've won on penalty kicks - he'll be a hero in England. Striking's a hard position, the hardest thing to do is put the ball in the back of the net."
What can football learn from other sports?
With its array of specialist positions, rugby union embraces the use of dedicated coaches to help players excel in the myriad facets of the game.
Scotland head coach Gregor Townsend is supported by assistants who focus on forward play, set-pieces and defence, as well as skills specialists such as former national captains Mike Blair and Chris Paterson.
His staff will soon be supplemented further by the arrival of Shaun Wane, the sought-after Wigan Warriors head coach in the other rugby code's Super League tournament.
Academy coach Bryan Easson has helped nurture some of Scotland's finest rugby talent, including two-time British and Irish Lion Stuart Hogg, and says specialist operators can provide teams with huge benefits.
"There are so many small margins in the game that you need specialist coaches working in specialist areas just to ensure that those margins are met," Easson says.
"A lot of teams play the same way and those specialist coaches make such a difference.
"It's a huge benefit for the players. With the help of analysis, to sit down with a specialist coach to talk about specific areas of the game, they'll be looking at defences, attack, small areas they can make small marginal gains.
"To look at your own game and the opposition game makes such a difference for these players and the team that they're playing in."