World Cup 2018: England won a penalty shootout and the nation lost it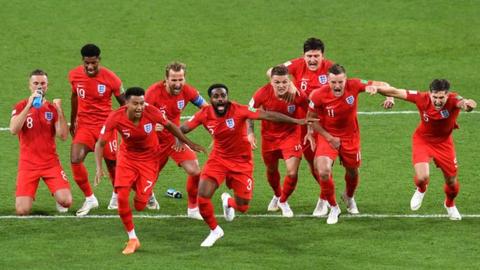 What. Just. Happened?
England fans have never experienced the feeling of winning a World Cup penalty shootout but the positive vibes that have carried Gareth Southgate's team so far continued on Tuesday night.
The Three Lions beat Colombia 4-3 in a shootout to reach the quarter-finals of Russia 2018.
The game itself was a testy affair, with both sides experiencing their fair share of heavy-handed treatment, with the South Americans resorting to dubious tactics every now and then.
Bit harsh on Colombia, Hazel...
However, after 120 minutes of intense football raised all our blood pressure to dangerous levels, a familiar sinking feeling crept up on England fans like a delegation of Dementors...
Many households up and down the country allowed young children to stay up past their bedtime to watch the match so it was expected the "post-watershed language" crept in every now and again...
"Well kids, we all have to experience the pain of an England penalty shootout at some point in our lives..." is a phrase many parents no doubt uttered tonight.
But, (and that is a but with a capital "B" "U" and "T"), the extra time and penalties meant delaying Love Island on the other channel.
TV remote-based arguments were about to break out all over the country...
The nation dealt with the stress in a very British way, comparing the intense feeling to other everyday palpitation-inducing occurrences.
What the country/team needed was a pep talk from one of the nation's finest ever penalty takers.
Step up, our Alan.
The shootout itself all started reasonably well as Harry Kane and Marcus Rashford both drilled their efforts into the back of the net.
But nobody wanted to count their chickens. This was England and - not sure if we mentioned it - but they'd never won a World Cup penalty shootout...
Third to step up was Jordan Henderson, but David Ospina had the measure of the slightly nervy looking Liverpool skipper - his shot was easily saved.
Was the "England World Cup penalty shootout curse" going to continue for at least another four years?
Was it heck!
Jordan Pickford blocked Carlos Bacca's shot with a Spiderman-like save.
It all rested on Tottenham's Eric Dier scoring to send England through to the quarter-finals against Sweden.
We will allow the following tweets demonstrate how things panned out...
Great work England. Final score: England 1-1 Colombia (England 4-3 Colombia ON PENALTIES).
Bring on Saturday versus Sweden. BBC One, 15:00 BST.
We go again.