Paris St-Germain: Uefa to review decision to clear French champions of breaking FFP rules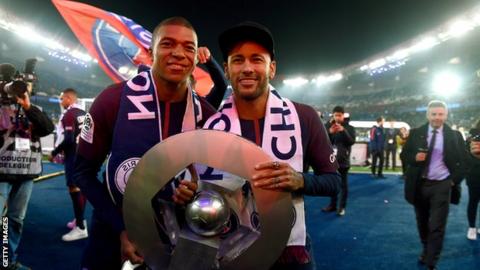 The decision to clear Paris St-Germain of breaking Financial Fair Play (FFP) rules will be reviewed by Uefa.
European football's governing body opened an investigation into the French champions' spending in September 2017.
It cleared the club last month but said PSG's transfer dealings would remain "under close scrutiny".
However the chairman of Uefa's Club Financial Control Body (CFCB) said the decision to close the investigation will now be reviewed.
"This announcement does not pre-judge in any way the result of the review to be conducted by the adjudicatory chamber of the CFCB," Uefa said in a statement on Tuesday.
PSG confirmed it had been informed of the decision to review the closing of the investigation.
The club also said it had successfully carried out "an important number of transfers in recent days" in compliance with the CFCB's original decision.
In 2013, Uefa introduced FFP 'break-even' rules, requiring clubs to balance their spending with their revenue.
In closing the PSG investigation in June, Uefa said the "break-even result of the club remains within acceptable deviation" for the past three financial years.
What has happened at PSG?
In 2017, PSG broke the world-record transfer fee when they signed Neymar.
The Brazil forward arrived from Barcelona for 222m euros (£200m) last August - more than double the previous transfer record.
The French club also signed Kylian Mbappe on loan from Monaco in a deal that is set to be made permanent for £165.7m this summer.
After those major signings, PSG were accused of "financial doping" by La Liga president Javier Tebas.
PSG have been owned by the Gulf state of Qatar, via its Qatar Sports Investments fund, since 2011.
They were punished for breaking FFP rules in 2014. A sponsorship deal with the Qatar Tourism Authority was deemed to have an unfair value by Uefa's independent investigation panel.