Hibernian: Adam Bogdan hopes reunion with Neil Lennon can reignite his career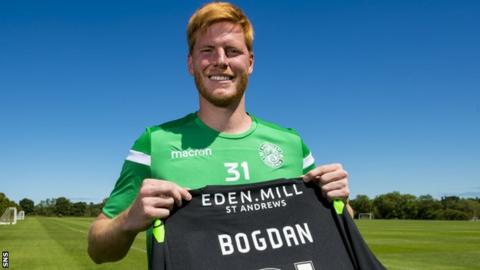 Liverpool goalkeeper Adam Bogdan hopes being reunited with Neil Lennon at Easter Road can help reignite his career after a serious knee injury.
The 30-year-old Hungarian has signed a season-long loan with Hibernian.
He has not played a first-team game since November 2016, when he was on loan with Wigan Athletic.
"It was a rollercoaster, emotionally and fitness-wise as well," Bogdan said. "It's a chance to get back to training and playing."
Bogdan signed a four-year contract with Brendan Rodgers at Liverpool after leaving Bolton Wanderers in 2015 but has made only six top-team appearances for the Anfield club.
"But I've been fit for the last three or four months, since February," he said. "I had a good run until the end of the season."
Bogdan worked under head coach Lennon at Bolton but does not expect to be an automatic first choice despite last year's number one, Ofir Marciano, still returning to fitness after finger surgery.
"It was one of the reasons I came here," he said of teaming up again with his old boss.
"He gave me a call, told me about the club and told me I had an opportunity here. It was important and hopefully I can show my quality here.
"But I'm not going to come here and say I'm going to play just because I say it - you have make yourself available and show yourself in training and hopefully get a chance. That's my aim."
The Easter Road side's season begins next Thursday when they host Runavik of the Faroe Islands in the opening leg of the Europa League first qualifying round.
"It makes the season more colourful, a European run," Bogdan said.
"Being in Europe is exciting as a player - that's what we want and the fans want the same.
"Hopefully that goes hand-in-hand and we can celebrate many good victories and performances in Europe as well as Scotland.
"It's a long way from just the first round and a lot of hard work to be done, but once you're through, there's a lot of enjoyment coming with it.
"We're excited to be in the competition and we would like to get to the group stages."
Bogdan is also no stranger to the Edinburgh derby, having followed the progress of his fellow countrymen who have made the move to the capital.
"I know of the Edinburgh teams because a long time ago we had a Hungarian here, David Grof, and, maybe I shouldn't mention it, but we had a couple of Hungarians at Hearts as well," he explained.
"So I've always looked out for the results in Edinburgh."