World Cup 2018: Russian chef serves player pizza portraits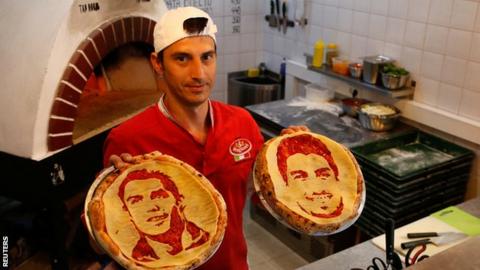 A Russian chef has been serving pizzas featuring the faces of the World Cup's top players.
Valery Maksimchik's pizza art at St Petersburg's HopHead Tap Room bar includes images of Luis Suarez and Cristiano Ronaldo, who faced each other yesterday in Uruguay's last-16 win over Portugal.
Each pizza portrait takes two hours of careful stencilling and cutting.
"We support football and sport through this method," said Maksimchik.
"My main work is as a pizzaiolo, but this is a hobby, so it brings me pleasure, like any hobby would."
The dough is cooked before the stencilling process and then the cheese is melted into position.
Maksimchik has also made pizza portraits of Russia coach Stanislav Cherchesov and strikers Artem Dzyuba and Fedor Smolov.
He has promised to make pizza portraits of every player in the Russia squad if the hosts go all the way and win the World Cup.