Kieran Tierney: Celtic full-back could stay 'at least another year' - Scott McDonald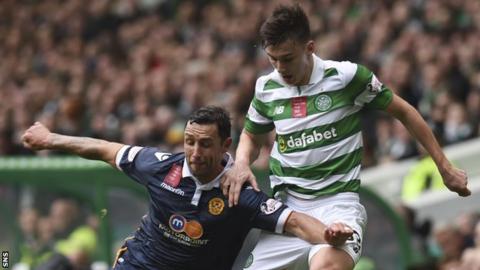 Former Celtic forward Scott McDonald expects Kieran Tierney to stay at the club for at least another year.
The Scotland left-back, 21, has been heavily linked with Everton and other Premier League clubs.
Tierney has made 130 club appearances since making his debut in 2015 and is contracted until 2023.
"I think he might possibly just stay on for even another year, maybe two more," McDonald told BBC Radio Scotland's Sportsound.
"If they're offering the amounts of money that can be offered down in England then it would be a huge temptation but we've seen in the past how much he loves the football club and he's still only young.
"If he holds out another year or two, I think opportunities do open up. Someone like Man United, that has been touted with the struggles that they have found at left-back.
"Certainly, if they were the ones tabling the bid, you would jump. I think you would have to jump to go to a Manchester United or the likes of them in the Champions League competitions. Everton, outside the top six clubs, you would argue are probably the next one."
Free agent McDonald, 34, believes it will be left up to the player if an acceptable bid arrives.
"It really depends on Kieran Tierney himself for me at this point," said the striker, who scored 64 goals in 128 Celtic appearances between 2007 and 2010.
"Celtic as a football club, I don't think they'll want to lose him but it certainly tests their resolve - if £25m is slapped on to the table, that's a hard amount to say 'no' to and then I think pretty much it'll be in the player's hands.
"People are going to go mad when I say there's still a question mark on Kieran Tierney, especially at that level. The physicality and the pace of the game down there is completely night and day from what you get week in, week out here. I think he's more than willing, more than capable, to go and rise to that test.
"It's not so much him, it's what he's up against. It's the bigger physical specimen that he's going to come up against."
'Van Dijk the perfect example for Tierney'
Former Celtic defender Darren O'Dea, now with Dundee, cited the examples of former Dundee United left-back Andy Robertson and ex-Celtic defender Virgil van Dijk, who joined Hull City and Southampton respectively before both moving to Liverpool.
"It depends where he wants to go," said O'Dea, 31, of Tierney.
"I might be wrong, not because of his ability, but I don't believe he'll move directly from Celtic to a top-four team in England.
"If he sees his career going to a Man United, whatever it may be, similar to Andy Robertson, I think he needs to make a step, I wouldn't say down - Everton's an unbelievable football club, a huge football club.
"Van Dijk's the perfect example. I think Van Dijk was as good as I've seen at centre-back."