Scotland Women: Shelley Kerr seeks more 'character' in final World Cup qualifiers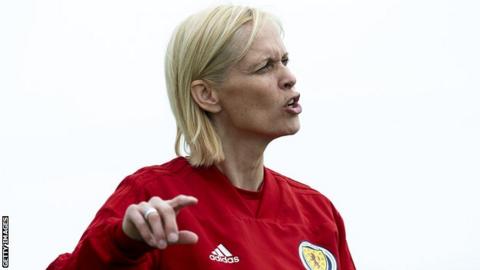 Head coach Shelley Kerr has urged Scotland Women to show the same quality and character in their final two World Cup qualifiers as they did in Poland.
The Scots host group leaders Switzerland, who they trail by three points, on 30 August before a trip to face Albania four days later.
Scotland came from 2-0 down to beat Poland 3-2 earlier this month.
"With 12 minutes, we scored three goals and that's the sign of a good team and character within the team," said Kerr.
"We'll need that in abundance in the last two games.
"The Poland game, we were 2-0 down and we've dominated possession and you're sitting on the bench scratching your head thinking, 'how does that happen that you're 2-0 down?' but credit to the players.
"The goals that we've conceded in this campaign haven't been great - there's usually an accumulation of errors there.
"We spoke about that as a group and we've felt that we've given teams a goal start and you can't always get away with that. We're going to have to be meticulous with our tactics going into the Switzerland game in particular."
Should Kerr's side beat the Swiss, to whom they lost 1-0 away, by two goals in Paisley and match Switzerland's result in the final round of games, Scotland will progress automatically to next year's finals in France.
Poland host Switzerland on 4 September, when Scotland are away to Albania.
The four best runners-up from the seven groups will compete in play-off semi-finals and a final to decide the last place on offer to Uefa nations.
"When we started the campaign way back in October, we played Belarus away from home and I said 'it's a must-win game'," Kerr told BBC Radio Scotland's Sportsound.
"Every time I get asked, I go to the next game, it's a must-win game.
"It's going to be tough but we're absolutely going out to win that game [against Switzerland], there's absolutely no doubt about that.
"We said we want to entertain, we want to try and do things in the right manner. We've tried to be an entertaining team and be more attacking-minded and that's been our focus."