World Cup 2018: Dejan Lovren says he 'thrives' on insults as Croatia flourish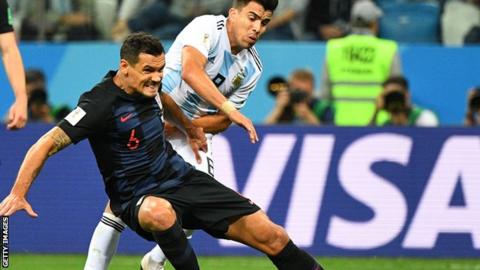 Croatia defender Dejan Lovren says he thrives on "insults" as he focuses on helping his country "do something big" at the World Cup.
The 28-year-old played in each of the three wins that saw Zlatko Dalic's side finish top of Group D by five points.
He is confident he can maintain his form as he prepares for the last-16 tie with Denmark in Nizhny Novgorod on Sunday (19:00 BST).
"I want to prove that I am one of the best defenders in the world," he said.
"When some people insult me, it has strengthened me."
Croatia failed to progress from the group stages at the last World Cup, but the Liverpool defender says morale in the squad is so strong they can be "dark horses" in Russia.
"I've been saying for 20 years that Croatia can do something big at the World Cup, but I feel that there is a real opportunity this time," said the 28-year-old.
"The atmosphere in the team is great and it can't be compared to the way it was four years ago in Brazil. It's so different, it's as if it was two different teams.
"The coach knows exactly how to interact with players and does it in a unique way."
Lovren, who made 43 appearances for Liverpool last season as they finished fourth in the Premier League and reached the Champions League final, helped Croatia concede just once in a group containing Argentina, Iceland and Nigeria.
"If we are brave, we can go far," Lovren said. "Ever since the beginning of the tournament, the defence has functioned very well.
"We've been enjoying our football. And now we've secured our place in the last 16, which was always our goal, I'm sure we'll play with even more freedom.
"Sometimes a bit of luck is needed. But we can be the dark horses of this World Cup."