Steven Gerrard: Time against new Rangers manager, says Brian Laudrup
Last updated on .From the section Rangers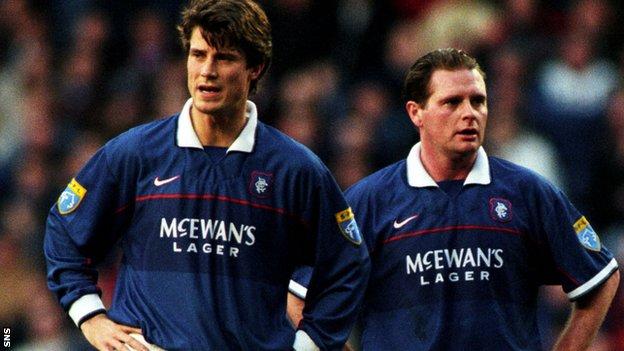 Former Rangers midfielder Brian Laudrup says time is against new manager Steven Gerrard.
Gerrard has brought seven players into the club as he attempts to improve on two third-place finishes.
"If you go out and get seven or eight new players, they need time to gel and the problem is time is an issue when you're playing in Scotland with a very good Celtic side," said Laudrup.
"Rangers have to be up for it right from the start."
Laudrup signed for Rangers at a time when they dominated Scottish football; winning three Premier Division titles, a Scottish Cup and a League Cup between 1994 and 1998.
However, Rangers have not lifted one of the three main domestic trophies in Scotland since 2011, while Celtic are three league triumphs short of a coveted 10-in-a-row.
"It will be tough," the Dane told BBC Radio Scotland's Sportsound. "Obviously Rangers, they will try and catch up.
"It will be interesting to see what ideas Gerrard tries to implement into the team, he's not got a lot of time right now, he has to prepare for the Europa League already.
"It's a huge job for a manager who hasn't managed before apart from youth teams in Liverpool.
"But, having said that, as a player, he was phenomenal and just by mentioning Gerrard's name with Rangers a lot of players will be interested to join a club like that."
Laudrup hopes Gerrard can bring success back to the Ibrox club.
"It's going to be a huge task," he said. "I wish him every success,
"I think Rangers need that after five, six, seven years which has not only been tough for the players and staff but especially for the supporters."
Listen to Brian Laudrup's preview of the World Cup round of 16 game between Denmark and Croatia, BBC Radio Scotland's Sportsound, 14:00 BST, Saturday 30 June.