Tottenham reveal latest images of new stadium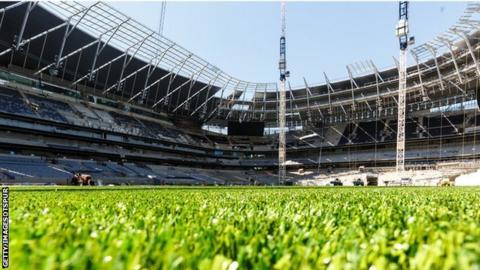 Tottenham have revealed the latest images of their new stadium, which is nearing completion.
Spurs will play their first Premier League game at the 62,062-seat stadium in north London on 15-16 September against Liverpool.
A number of test events are scheduled to take place at the stadium in August.
The ground, which will also host NFL games in October, will feature a 285ft (86m) long bar and a glass-walled players' tunnel.
Tottenham manager Mauricio Pochettino said: "We are excited about the season ahead and making the new stadium our new home.
"I have stood inside the bowl and I know the atmosphere will be unbelievable - it will be well worth the wait."
Spurs confirmed the stadium, which is estimated to have cost £750m and created 3,500 jobs, will not be open in time for the start of the 2018-19 season.
They will play promoted Fulham at Wembley in their first home game of the season on the weekend of 18-19 August.