Mark Halsey: Former Premier League referee says player asked to be booked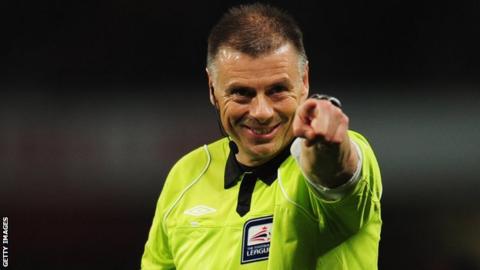 Former Premier League referee Mark Halsey says he once showed a yellow card to a player who had asked him to.
Halsey said the incident occurred during a top-flight game, with the player needing a booking to reach the threshold for an immediate suspension.
He told CNN: "The player said: 'If I don't get cautioned now and get one Tuesday, I'll miss the big derby.'
"I said: 'When I give a free-kick against you, leather the ball 50 yards and I can caution you for dissent.'"
Halsey said the incident happened in 2011, and that he told the player - who he did not name - not to do "anything stupid".
"If you've got big games coming up and you're on four yellow cards, one more means you get suspended," he said.
"He came up to me at the end of the game and said: 'Thanks for that, Mark.'"
BBC Sport understands Professional Game Match Officials Limited, which is responsible for refereeing appointments in English leagues, had no knowledge of the incident and would have analysed it had it been brought to its attention.
The FA is looking into Halsey's comments, but would not add any further detail.
Halsey began refereeing in the Premier League in 1999 and retired at the end of the 2012-13 season.